The legendary Vigna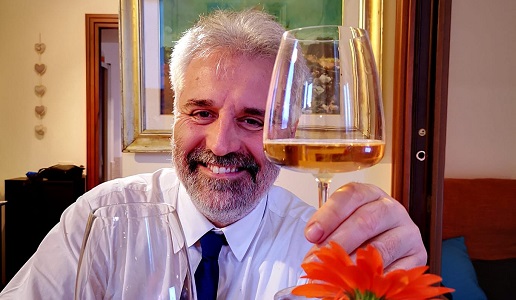 Luciano Lombardi, AKA Vignadelmar, Vigna for short, is an historic "host" with an enormous passion for restaurants and wine, which are his bread and butter.
The title is a reference to how Lucio Dalla once defined Renato Villa, the Bologna fullback of the 1980s, who in one jump went from the third-division side Orceana to the Serie A, where he faced off against the likes of Maradona and Van Basten, among others. He was the "legendary" Villa, while Luciano Lombardi is, in my opinion, the "legendary" Vigna. Vigna has been his nickname since he had a place in Monopoli that was called Vignadelmar (Vineyard of the sea) that became an authentic reference point for getting to know the area's quality wines.
Who is Luciano Lombardo? He is a gentleman from Fano, almost two meters tall, with a "booming" voice and who has been in the restaurant sector for decades and is an impassioned and expert lover of food and, above all, wine. He has collaborated with DoctorWine since the beginning, in 2011, and tastes wines and writes evaluations for our Essential Guide for Italian Wine, focusing on certain areas of his native Marche region. Vigna considers Verdicchio to be the greatest wine in the world and has a special and dialectic rapport with Angelo Gaja. And while the latter is a liberal, Vigna is a diehard Communist and listening to their discussions is a treat. In times like these, they demonstrate how one can remain friends, with deep reciprocal respect, while entertaining very different political opinions.
As I said, Vigna runs restaurants. At present he is in Rome at the Hosteria La Stazione, in via Solferano, between the Termini train station and Piazza Indipendenza. This is a simple and wonderful place with a lovely wine list at reasonable prices and the cuisine is mostly regional and well-made. He works with truly incredible dedication and passion, working 15 hours a day, if necessary. At a time when it is so difficult to find good people to work in this sector, he sets a fine and important example.
For us at DoctorWine, Vigna is a rock and not just because he is the size of a gentle giant. In his free time, he and his partner Irina frequent restaurants and wine bars, where he tastes wines to then discuss them with yours truly. This is especially true when we are compiling the Essential Guide and he comes across a rating he does not agree with. Rather than just looking at the evaluation parameters, he engages in a critical review of the work we have done which allows us to better focus on the qualities of the wines we are evaluating. For this reason, and because the restaurant sector needs more people like him, I have decided to tell you about him in these few words. And should you want to know more, go to the restaurant he is running, you will not regret it.