The DoctorWine 3-Star Estates in the 2020 Guide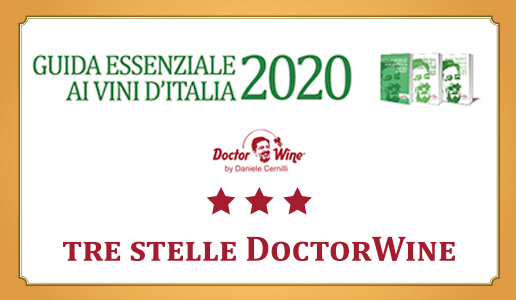 Here are the best Italian estates in regard to importance and reliability: these are the mainstays of Italian wine worldwide.
The Essential Guide to Italian wines does not only have DoctorWine seals for quality. Our evaluations are made on three levels and one of these is focused on the estate as a whole and not on a specific wine of a particular vintage. In other words, it is an overall evaluation of an estate, one not necessarily related directly to the wines presented and evaluated for the current edition of the Guide but involving other parameters and expressed using a rating system that goes from zero to three stars.
The evaluations are based first of all on the importance of the brand and how emblematic it is in the land of its origin. Then there is its evolution over the recent past decades, quality reliability and international image.
There were 95 producers throughout Italy who this year achieved a maximum rating of three stars, with five new entries in this elite group. We won't tell you which ones they are but invite you to discover them for yourselves reading through this list and looking through the Guide.
Allegrini, Veneto
Elio Altare, Piemonte
Antinori, Toscana
Antoniolo, Piemonte
Argiolas, Sardegna
Barone Ricasoli - Castello di Brolio, Toscana
Bellavista, Lombardia
Bertani, Veneto
Biondi Santi - Tenuta Il Greppo, Toscana
Borgogno, Piemonte
Brovia, Piemonte
Bucci, Marche
Ca' del Bosco, Lombardia
Cantina San Michele Appiano, Alto Adige
Cantina Terlano / Terlan, Alto Adige
Cantine Ferrari, Trentino
Capezzana, Toscana
Capichera, Sardegna
Arnaldo Caprai, Umbria
Casanova di Neri, Toscana
Castel Juval Unterortl, Alto Adige
Castellare di Castellina, Toscana
Castello della Sala, Umbria
Castello di Fonterutoli, Toscana
Castello di Monsanto, Toscana
Castello di Volpaia, Toscana
Ceretto, Piemonte
Giacomo Conterno, Piemonte
Coppo, Piemonte
Cottanera, Sicilia
Cusumano, Sicilia
Romano Dal Forno, Veneto
Marco De Bartoli, Sicilia
Dettori, Sardegna
Famiglia Cotarella, Lazio
Fattoria Zerbina, Emilia Romagna
Livio Felluga, Friuli Venezia Giulia
Gianfranco Fino, Puglia
Fontanafredda, Piemonte
Fontodi, Toscana
Frescobaldi, Toscana
Gabbas, Sardegna
Gaja, Piemonte
Gioacchino Garofoli, Marche
Bruno Giacosa, Piemonte
Elio Grasso, Piemonte
Gravner, Friuli Venezia Giulia
Il Pollenza, Marche
Illuminati, Abruzzo
Isole e Olena, Toscana
Jermann, Friuli Venezia Giulia
Köfererhof, Alto Adige
Le Macchiole, Toscana
Lungarotti, Umbria
Bartolo Mascarello, Piemonte
Masciarelli, Abruzzo
Masi - Serego Alighieri, Veneto
Massolino, Piemonte
Mastroberardino, Campania
Miani, Friuli Venezia Giulia
Monsupello, Lombardia
Montevetrano, Campania
Muri-Gries, Alto Adige
Nino Franco, Veneto
Nino Negri, Lombardia
Oasi degli Angeli, Marche
Ornellaia e Masseto, Toscana
Palari, Sicilia
Pieropan, Veneto
Pietracupa, Campania
Pio Cesare, Piemonte
Planeta, Sicilia
Poggio di Sotto, Toscana
Poliziano, Toscana
Produttori del Barbaresco, Piemonte
Querciabella, Toscana
Giuseppe Quintarelli, Veneto
Roagna I Paglieri, Piemonte
San Leonardo, Trentino
San Patrignano, Emilia Romagna
Luciano Sandrone, Piemonte
Schiopetto, Friuli Venezia Giulia
Sella & Mosca, Sardegna
Tasca d'Almerita, Sicilia
Tenuta San Guido, Toscana
Tenute Cisa Asinari dei Marchesi di Gresy, Piemonte
Toros, Franco, Friuli Venezia Giulia
Umani Ronchi, Marche
Valentini, Abruzzo
Venica & Venica, Friuli Venezia Giulia
Vie di Romans, Friuli Venezia Giulia
Vietti, Piemonte
Vodopivec, Friuli Venezia Giulia
Volpe Pasini, Friuli Venezia Giulia
Elena Walch, Alto Adige
Related Articles
| | | | | | |
| --- | --- | --- | --- | --- | --- |
| | I tre faccini e i magnifici sette | 16/09/2019 | Daniele Cernilli | Signed DW | |
| | I Faccini DoctorWine 2020: i 95/100 | 17/09/2019 | Redazione | Signed DW | |
| | I Faccini DoctorWine 2020: i 96/100 | 18/09/2019 | Redazione | Signed DW | |
| | I Faccini DoctorWine 2020: i 97/100 | 19/09/2019 | Redazione | Signed DW | |
| | I Faccini DoctorWine 2020: i 98 - 99 e 100/100 | 20/09/2019 | Redazione | Signed DW | |
| | Vi aspettiamo a Milano il 29 settembre | 23/09/2019 | Stefania Vinciguerra | Signed DW | |