Thales' water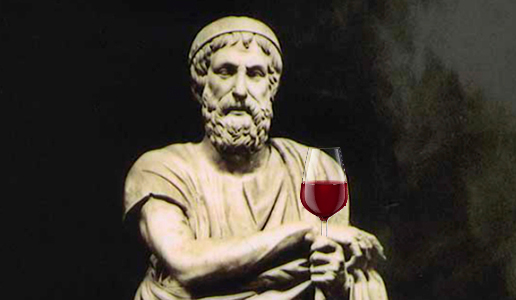 Wine also represents the history of a land, its people, climate, landscapes and traditions and thus has a symbolic value that goes beyond its simple organoleptic characteristics.
Every now and then I think back to things that took place back in my "previous" life, when I was a student of philosophy and had not yet fallen under the spell of the "spirit of wine". One of these regarded my professor of philosophic theory and thesis advisor, Guido Calogero. On one occasion, when explaining the pre-Socratic philosophers to us, more specifically Thales, who believed that everything came out of water, he asked us "do you think Thales' water was drinkable?". One of us answered "No, Professor, that water is only a philosophical principle, a theory". And the Professor replied: "Thales was talking about Nature and for him the water was the real one that you can find everywhere, even in plants, animals and people. Thus it could 'also' be drunk".
Applying this thought to the world of wine, even the most important ones, if appears evident that they, too, can 'also' be drunk, even if their importance goes beyond this aspect. Just like Thales said. A wine is also the summation of a land, its people, climates, landscapes and traditions. Whether it be a Romanée Conti or an extraordinary Lambrusco, the basics do not change. What is important, in my view, is the symbolic value, the ability to represent something that goes beyond simple organoleptic characteristics and please someone here and now. A good wine goes beyond a kind of individual utopia because it satisfies the personal needs of an individual. There are things that can be understood but are not definitive.
Luigi Veronelli often repeated that a wine was a story. This is probably why we love this world and why it is understandable to so many people, even those who are not necessarily experts who can distinguish between thousands of aromas and thousands of technical nuances. This world has recently lost a number of its leading players, fantastic winemakers who brought their passion and intelligence to their work as well as their skill. Bruno Giacosa, Beppe Rinaldi, Nino Pieropan, Beppe Colla, Severino Garofano and, a few days ago, Gianfranco Soldera and Fabrizio Piccin. I think it is important to remember what they did, what they put into their wines and how they tried to interpret their land through their wines. Because by doing this they bared their souls and not just brought out their scents and flavors. They made them something more than just something to drink.