Sometimes they come back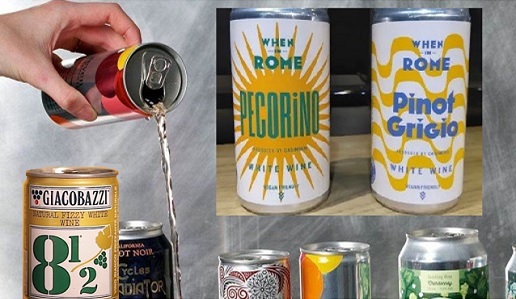 Not everyone knows this but wine-in-a-can originated in Italy in the 1980s. Its initial and quick success soon dissipated with its detractors having the upper hand and this practice went on hold until a few years ago. However, its popularity is now growing around the world.
The British supermarket chain Waitrose (which caters to the upper-middle class) is no stranger to wines- in-a-can, all 250ml. Now a smaller can is gaining ground and replacing the single-serve, 187ml bottle. The justification for this is that it is more convenient for the consumer and, at the same time, it results in a huge savings in packaging, some 320 tonnes a year, which is not to be frowned upon.
Two Italian wines, a Pecorino and a Pinot Grigio, are the latest to be offered in a new line called "When in Rome". Any Italian who knows their wine would, of course, ask what Rome has to do with Pecorino, a wine from either the Marche or Abruzzo region. Or Pinot Grigio, for that matter, which is typically from the Italian northeast. In the first case, we must assume that the chain's marketing experts wanted to exploit the term "Pecorino Romano", even if it refers to a cheese. In the second case, it would appear that they followed the Anglo-Saxon preference for identifying a wine according to the varietal it is made from rather than where it is grown. And so, since Pinot Grigio is the most famous Italian white grape, it follows that it be coupled with Rome, the Italian capital being a recognized brand in itself. In other words, we are faced with marketing 101 and it makes little difference if the geographic reality is different from what they claim it is. Even more important, they are also taking into account another growing trend: both wines are marketed as vegan friendly, and thus they are theoretically a cut above the other wines-in-a-can, which are at best organic.
All this makes sense if you consider that the largest consumer groups drinking wine-in-a-can are the late-Millennial and Generation Z crowds, who are 30-years-old and below. And they are also those who appear to be the most sensitive towards the environment and nature, which includes respect for animals and thus more inclined to be vegan. But there's more. Metal cans are considered to be more ecological because they are 100% recyclable and have a lower environmental impact than glass, producing less CO2 because cans are easier to transport. Another consideration is that cans are easy to open, without needing any tools, and thus can be easily consumed in parks, at the beach, on boats and in stadiums. And then there is the price, a can costing an average of 2 euros, thus affordable for all.
The market for wine-in-a-can is small but is expanding, some 10.4% of annual wine consumption, and it is estimated that by 2028 the annual turnover for this product will be some $570 million, with the quality of the wines offered expected to improve considerably.
Italians, for the moment, are reluctant to opt for this product even if, according to many, it is an excellent alternative to beer or soft drinks in a can. In fact, 60% of the wine-in-a-can sold globally is sparkling wine.
And thus the question arises: is it possible that 8 ½ Giacobazzi, which came out over 40 years ago, was the future and way ahead of its time?