Remembering Pio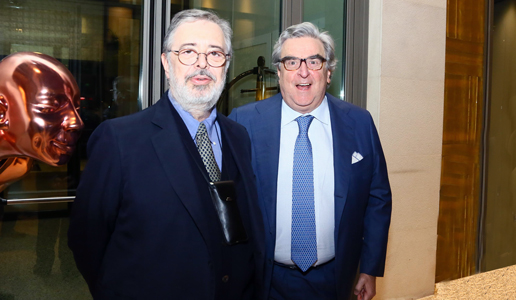 Even after more than two weeks, it is difficult to get over the passing of Pio Boffa, a great wine producer yet even more a great friend.
Unfortunately, life is also made up of sad moments and for me this is one of those. Less than a month ago, Pio Boffa, the famous wine producer and head of the Pio Cesare winery, but above all a dear and close friend, passed away. He was not able to get his vaccine in time, as opposed to me even if we were the same age, and he recently was not in the best of health.
We last spoke at the end of March, when I was in Alba for the Nebbiolo Prime wine presentation. The region was declared a 'red zone' and so it was not possible to leave the hotel where the tastings were taking place and we could not meet up as we always did every time I was in the Langhe or every time he came to Rome. He told me that, in any case, we would not have been to get together because he had tested positive for the Covid virus. "But I don't feel that bad, I work in the office by myself and I just have a little cold". His condition then worsened and nothing could be done, another confirmation just how dangerous and treacherous this terrible virus is.
It is difficult for me to say that Pio "was", I don't want to believe it and it seems impossible to me that I will never again talk with him about the things we were passionate about. Pio was a great professional in his field and he travelled the world over. I remember how we ran into each other in 2000 at the Narita airport in Tokyo. He was just arriving and I was about to board his same plane for its return flight to Italy. "What are you doing here?", I asked him. "I'm going to present and sell my wines. The question is: what are you doing in Japan?". It was so sweet to speak in Italian after three weeks and, more than that, to see a friendly face.
Now, I will never see him again, never hear his voice, see how curt he became when he got mad, which was often. I will never again see him behind a tasting table serving his wines at an event who knows where in the world. I will never again be able to tease him by defining his Barolo or his Barbaresco as Pio Cesare's "stock" wines, something that drove him up a wall.
And so I would like to remember him here, with you and with myself, because if there was anyone who with determination, sincerity and skill was able to promote his estate's wines the world over, as well as tell his family's history that dates back to 1881, and who contributed to making Barolo a legend, then it was Pio Boffa. And I would hope that he be recognized for this in an undisputed way and by all those who had the pleasure of having met him. Ciao Pio, wherever you may be.
Related Articles