Remembering Bonilli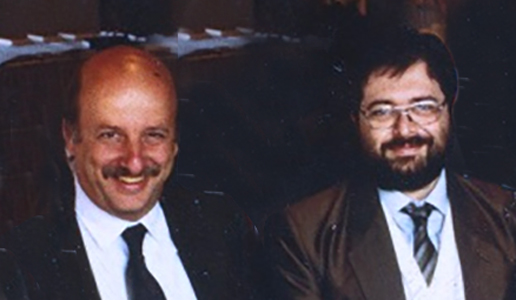 It's been six years since Stefano Bonilli left us suddenly and prematurely, leaving a void in Italian food and wine journalism.
It was on the evening of August 3, 2014 that Stefano Bonilli suddenly and unexpectedly passed away. Six years have now passed and I want to continue to remember him, given that few others appear to do so. Those who read me know who Stefano Bonilli was. For those who don't it is sufficient to say that he was the mastermind behind and creator of Gambero Rosso. It began as an insert in Il Manifesto, from the end of 1986 to 1991, and then became an authentic and independent magazine. He ran it until October 2008, when he was unjustly fired.
In the meantime, he had begun to publish Papero Giallo online, the first Italian food and wine blog, and later Gazzetta Gastronomico. In between were the 22 years at Gambero, over 20 editions of the Guide to Italian Restaurants, which he personally supervised from the 1991 edition to the 2009 one, and an endless number of books. And then there was the Gambero Rosso Channel, the first TV channel of its kind in Italy and the second in the world, which he literally invented and ran for over ten years helping to launch the careers of people like Bruno Barberi, Antonino Canavacciuolo and Laura Ravaioli.
In the world of Italian wine and food there exists a before and after Bonilli, a before and after Gambero Rosso. He was a bright and intellectually curious and active man and a unique discoverer of talent and not only in Italy. It was undeniably thanks to him that we in Italy were able to learn about the great Spanish, American, Japanese and young French chefs who would later become very famous. In Italy, he was among the first to recognize the talents of Fulvio Pierangelini, Massimo Bottura, Niko Romito and Gennaro Esposito just to name a few of the top off my head.
He also has the merit of having created an editorial staff of young and talented food and wine journalists, from Marco Bolasco to Fabio Parasecoli, Raffaella Prandi to Laura Mantovano, Luciano Del Sette to Andrea Gabbrielli, Clara Barra to Marco Sabellico and Mara Nocilla. It also included the reliable graphic artist Susanna Gulinucci and Annalisa Barbagli with her recipes and the comparative tests of Cristina Barbagli.
Then there were those specialized in wine, with the "three glasses" classification, the collaboration with Carlo Petrini, Gigi Piumatti and the Slow Food group, with yours truly acting as playmaker, and a slew of novice critics at the time including Dario Cappelloni, Riccardo Viscardi, Eleonora Guerini, Antonio Boco, Paolo De Cristofaro and Giuseppe Carrus. Many owe him a lot, starting with myself, because he allowed a slew of young people to find their direction, offering them incredible opportunities.
Under his direction the gang of talents that were Gambero Rosso lasted for 22 years, years that were formidable, unrepeatable and decisive. And I remember them all very well and the minimum we can do now is to remember someone like him who risks being forgotten.