Reasonable wines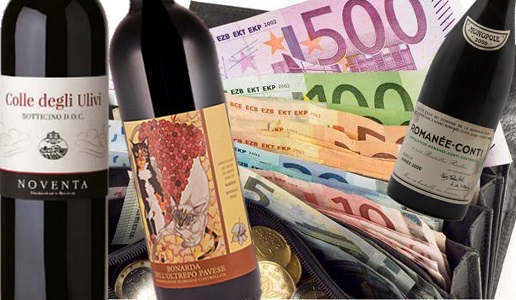 There exists a category of wines that are only for the very rich but we can find consolation by drinking wines that are not only good and quite satisfying but also well within our budgets.
I believe that finding a wine that is well-made, territorial, the product of sustainable winemaking and at a reasonable price is one of the best things a true wine lover could hope for. This came to mind after I visited a website that was offering a Romanéè Conti 2000 at "only" 36,000 euros. Yes, you read right.
As is the case with an important work of art or a luxury apartment, I would suggest that rather than give the price they should have just said "price upon request" or something like that. But I do not wish to engage in a moralistic discussion, only to suggest a sense of proportion.
In my lifetime, I have had the opportunity to taste that wine three or four times, during tastings offered by importers that deal with that wine. Once, many years ago, five friends and I pooled together our funds and bought a 1988 Romanée Conti, which in the early 1990s cost half a million lire retail, which was a quarter of my monthly salary at the time. Adjusted to inflation, this would mean I would have to have a monthly salary today of 144,000 euros, which is the stuff of dreams. What this all boils down to is that certain wines today are reserved only for the extremely rich, which is another reason why their prices have gone sky high.
That said, let's turn our attention back to well-made, territorial wines that are also the product of sustainable winemaking, and which thus have something in common with a Romanée Conti, but which are available at a reasonable price. During tastings for a guide I am compiling with NaturaSi focusing on their organic and biodynamic wines, I came across several that fell into this category and two of them impressed me, in particular, for their personality, originality and ability to please and I would like to point them out to you.
Both are from the region of Lombardy and the first is a Botticino Colle degli Ulivi 2018 from the Noventa winery in Botticino, in the province of Brescia. It is an elegant and composed red, a blend of 40% Barbera, 30% Sangiovese, 20% Marzemino and 10% Schiava Gentile. It ferments in cement vats and is certified organic. This delicious and elegant red costs 14 euros retail.
The second wine is an Oltre Pò Pavese Bonarda 2019 from the Martilde winery of Antonella Tacci and Raimondo Lombardi, situated in Rovescale in the province of Pavia. This is a truly well-made "still" Bonarda, a fine example of this wine and also the product of artisanal and sustainable winemaking. It costs only 9 euros retail.
And for all of us who will never be able to buy and drink a bottle of Romanée Conti this is quite a consolation. I can assure you that you will not regret it.