Inventing tradition: The case of the Carbonara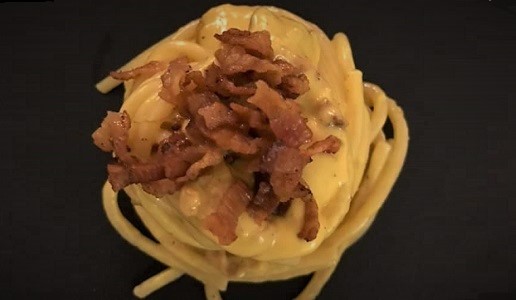 This dish, which is considered around the world as an historical Roman recipe, is not a traditional Roman recipe and has so many versions that none can be considered the authentic one.
In her book on Rome cuisine, Ada Boni makes no mention of Carbonara and this itself is food for thought. Eleonora Cozzella, who a few years ago wrote a formidable book entitled La Carbonara Perfetta (The Perfect Carbonara), published by Cinquesensi, produced a very documented analysis which underscored how this dish has many variations, one of the oldest of which used ham rather than bacon or guanciale pork jowl.
Livio Jannattoni, the author of the key book Ghiottone Romano (Roman Glutton), published by Bramante and today impossible to find, and above all La Cucina Romana e del Lazio (The Cuisine of Rome and Lazio) for Newton Compton, defined the Carbonara as "An 'almost Roman' dish, even if no mention of it is made in the fundamental book by Ada Boni. Nor is there any trace of Spaghetti alla Carbonara, even if others have come up with its origins and importance.". According to Jannattoni, the most accepted hypothesis of its origins has to do with the powdered eggs and bacon brought by American soldiers after 1944. Bacon was later replaced with Italian guanciale (which before had been very rare and expensive). Another reputable hypothesis is linked to the La Carbonara restaurant in Campo de' Fiori, which was named by Andreina Salomone in honor of her father Federico who, after having a shop selling charcoal, in 1912 opened the "Trattoria del Carbonaro" in Vicolo dei Osti. It offered a variation of the Abruzzo dish "cacio e ovo" (cheese and eggs) with the addition of bacon which then became "Pasta alla Carbonara" and for this recipe Jannattoni found they used penne macaroni and not spaghetti.
The reason I am saying all this is because the dish has had international success, with slews of versions, and above all because the claim that it is "traditional" is totally invented. Carbonara is not a traditional Roman dish and this because it was invented after the Second World and has many different variations. And it is also not at all true that it can only be made using guanciale, as I have even heard some very renowned chefs claim.
The case of the Carbonara is not unique. There are other recipes and even some wines for which origins and traditions have simply been invented, perhaps with the intention of somehow ennobling them. And this is because, for some, if something is from long ago and has "historic" importance, then it must be better. I have been making "my" Carbonara since my university days, when I would make it at the homes of my fellow students because they all liked it. My version is made using one egg white to two yolks, pecorino sheep's cheese and thick-cut bacon. I also use spaghetti rather than macaroni because it drains better. And his because if a Carbonara has an enemy, it is pasta water which ruins the sauce and is never fully absorbed. Nevertheless, if others prefer to use guanciale, as well as a little parmigiano, because the pecorino is too salty, and opt for macaroni, I am not going to damn them to hell. This is for all the reasons I have mentioned above.
Below you will find an acceptable recipe, one from Rosanna Ferraro who, as you will see, uses guanciale and is much more of a fundamentalist than I am.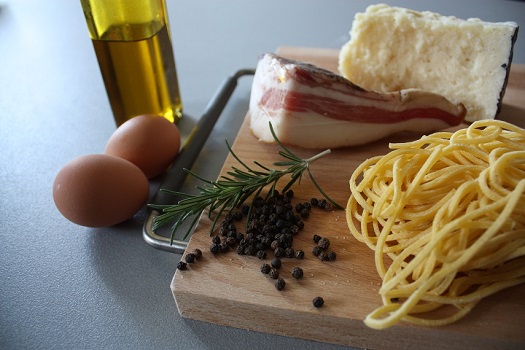 Ingredients :
300g spaghetti, 150g guanciale pork jowl, 3 egg yolks and 1 whole egg, 300g grated pecorino Romano
cheese and black peppercorns.
Directions :
The eggs must be very fresh and not refrigerator cold.
Cut the guanciale into strips that are not too thick and fry them in a trickle of oil which, according to my guanciale pusher, helps melt its fat and brown the meat. Fry until they are crispy but not burnt.
Drain off the oil and keep it aside to ensure the guanciale does not get soft before it is ready to be used.
While the pasta is boiling, beat the eggs and add in almost all the pecorino. I add a little of the water from the pasta to make the pecorino nice and creamy.
Drain the pasta but not too much and put it in a pan and cook, stirring it vigorously with a wooden spoon until some white starch cream emerges and then turn off the heat. Only now do I add the creamy pecorino.
Why does the pecorino need the starch? "Because starch, with its long glucose strains keeps the proteins from coagulating and keeps or delays the pecorino from becoming lumpy".
At this point I add the guanciale, a little of the oil it was cooked in, the amount depending on whether you are on a diet, and the rest of the grated pecorino on top of which I sprinkle the black pepper which I have crushed in a small wooden mortar and pestle I inherited from my grandmother. The result is a splendid dish with an old fashioned flavor thanks to an old fashioned recipe. But it's a good thing there are no health inspectors around or they would close my kitchen down.
I keep mixing the pasta to allow the egg to full blend in but stop before it begins to become an omelet.
Not bad, right? In any case, any other ingredient is totally FORBIDDEN.