Finally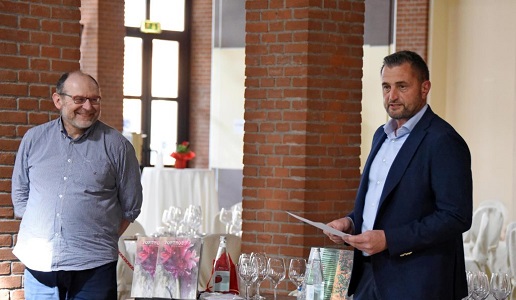 Viniveri 2022 has come out with a policy statement, La Forma e la Sostanza, Luci e Ombre (Form and Substance, Light and Shadow), in which two leading proponents of so-called natural wines, Paolo Vodopivec and Sandro Sangiorgi, stigmatized those defects and technical imperfections that many justify in the name of allowing a wine to be authentic. Finally, even they, as we have been arguing for years, have publicly declared that technical skill is essential to produce a good wine.
Paolo Vodopivec, president of the Consorzio Vinivery association and a very talented Carso producer, and Sandro Sangiorgi, who for years has commented on the world of so-called "natural wines", have co-signed a manifesto that seeks to clarify many fundamental points about and which we will re-publish here in full. Finally, they are underscoring important, key concepts in regard to certain aspects of winemaking and all we can say is that we totally share their point of view, as DoctorWine readers know well.
The next step should be to draw up an agreed upon protocol that could then even serve as a draft for a law that responds to the right of consumers to understand the meaning of certain definitions and to see them correctly applied and monitored. I am sure this would also be very positive for those producers who have a serious and correct commitment in their winemaking to such themes as eco-sustainability and a healthy environment.
LA FORMA E LAS SOSTANZA, LE LUCI E OMBRE
(FORM AND SUBSTANCE, LIGHT AND SHADOW)
Many producers are getting dangerously accustomed to technical imperfections, more or less serious, considering them venial sins or, even worse, as characteristics of their wines – as well as those of their colleagues. Although I had a feeling this would happen, I purposefully avoided believing it would. From a monstrous misunderstanding of conventional wineries that signed appeals to underscore the absolute need for chemicals and biotechnology to define wine as the fermented product of grape must, we have shifted to the equally monstrous paradox of those who view technical skill as an obstacle to producing an aromatic liquid, almost as if the less you know the better it is.
There is a totally unjustified laxity towards the relationship between form and substance, which in turn has led to a widespread indulgence that justifies undrinkable wines. It is fundamentally important to never separate form and substance, to never fall victim to commonplace appearances and, at the same time, to never fall into the trap of considering authenticity as the only yardstick for quality. If one is involved in an activity that involves, together with agronomic skill and work in the field, spirituality, education, practicalities, a capacity to observe and an ability to deal with the public, then one cannot allow form and substance to outbalance each other a priori because in this field one must strive for complete beauty.
There exists a problem of perceiving and recognizing quality, an aspect that should never be confused with authenticity. While the latter is a fundamental factor for good wine, the view that "nothing has been done to the wine", which is used to justify bad odors and instability, makes it clear how far we have strayed from the ethic of form and substance. Wine is a beverage that should please, thus it is both a content and container, flesh and breath, blood and nerves, reception and complexity, dreams and reflection.
Aside from learning to ferment, mature and age the product of one's agricultural efforts, it is essential to develop a sense of taste in order to cultivate that sense of beauty that elevates rather than downgrades so much hard work. It may seem incredible, but while conventional wines often negate and dismiss their origins, many natural wines are hiding them or confusing them in a web of endemic infections, unrefined reductions and an inconceivable lack of care.