DoctorWine 'Seal' with a 97/100 rating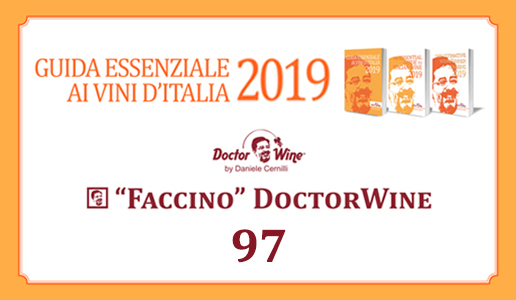 There are many wines that received a rating of 97/100, which in school would be like an A-, in other words close to perfect.
We go up one more point towards the top of our quality pyramid that will end with a 100/100 wine.
A total of 57 wines were given this extraordinary rating in blind tastings and here again they came from all over Italy, from Alto Adige to Sicily, further evidence that great wine is produced throughout the country.
To find out which wines received an even higher rating you will have to wait a few days. We'll be back on Tuesday to unveil the best bottles.
97/100
Albòri di Làmpata 2014, Capichera, Sardegna
AA Lagrein Vigna Klosteranger Riserva 2014, Muri-Gries, Alto Adige
AA Sauvignon The Wine Collection 2015, Cantina San Michele Appiano / Kellerei St. Michael Eppan, Alto Adige
AA Valle Venosta Riesling Windbichel 2016, Castel Juval Unterortl, Alto Adige
Amarone della Valpolicella Classico Mazzano 2011, Masi, Veneto
Barbaresco Falletto Vigna Le Rocche Riserva 2012, Bruno Giacosa, Piemonte
Barbaresco Rabajà 2014, Bruno Rocca Rabajà, Piemonte
Barbera d'Asti Superiore La Bogliona 2011, Scarpa, Piemonte
Barolo Bussia Vigna Colonnello Riserva 2012, Prunotto, Piemonte
Barolo Cannubi 1752 Riserva 2010, Damilano, Piemonte
Barolo Cerequio Riserva 2010, Michele Chiarlo, Piemonte
Barolo Cerretta Vigna Bricco Riserva 2012, Elio Altare, Piemonte
Barolo Riserva 2010, Fontanafredda, Piemonte
Barolo Sottocastello di Novello 2013, Ca' Viola, Piemonte
Bolgheri Superiore L'Alberello 2015, Grattamacco, Toscana
Bolgheri Superiore Ornellaia 2015, Ornellaia, Toscana
Brunello di Montalcino Madonna del Piano Riserva 2012, Valdicava, Toscana
Brunello di Montalcino Riserva 2011, Le Potazzine, Toscana
Brunello di Montalcino Riserva 2012, Poggio di Sotto, Toscana
Brunello di Montalcino Ugolaia 2012, Lisini, Toscana
Brunello di Montalcino Vecchie Vigne 2013, Siro Pacenti, Toscana
Cannonau di Sardegna Perdas Longas Riserva 2016, Francesco Cadinu, Sardegna
Cepparello 2015, Isole e Olena, Toscana
Chianti Classico Gran Selezione 2015, Casaloste, Toscana
Chianti Classico Riserva 2011, Castell'in Villa, Toscana
Colli Tortonesi Derthona Timorasso Sterpi 2016, Vigneti Massa, Piemonte
Collio Sauvignon Ronco delle Mele 2017, Venica & Venica, Friuli Venezia Giulia
Contea di Sclafani Rosso del Conte 2014, Tasca d'Almerita, Sicilia
Contrada Barbabecchi Quota 1000 2014, Graci, Sicilia
Contrada R Rampante 2016, Passopisciaro, Sicilia
Costabate 2012, Uccelliera, Toscana
Dettori Bianco 2017, Dettori, Sardegna
Etna Rosso Alta Mora Guardiola 2015, Cusumano, Sicilia
Etna Rosso Vigna Barbagalli 2015, Pietradolce, Sicilia
Franciacorta Annamaria Clementi Rosé Riserva 2008, Ca' del Bosco, Lombardia
Franciacorta Collezione Esclusiva Giovanni Cavalleri Brut Riserva 2007, Cavalleri, Lombardia
Friuli Isonzo Rive Alte Sauvignon Piere 2016, Vie di Romans, Friuli Venezia Giulia
Gavi dei Gavi D'Antan 2006, La Scolca, Piemonte
Gioia del Colle Primitivo 17 Vigneto Montevella 2015, Polvanera, Puglia
Gioia del Colle Primitivo Riserva 2013, Tenute Chiaromonte, Puglia
L'Apparita 2015, Castello di Ama, Toscana
La Pineta 2016, Podere Monastero, Toscana
Langhe Riesling 2016, Ca' del Baio, Piemonte
Marsala Superiore Oro 10 anni Riserva, Marco De Bartoli, Sicilia
Menfi Chardonnay Didacus 2015, Planeta, Sicilia
Mix 36 2015, Castello di Fonterutoli, Toscana
Ogrà 2013, Famiglia Cotarella Falesco, Lazio
Recioto della Valpolicella Classico A Roberto 2011, Giuseppe Quintarelli, Veneto
Roero Audinaggio 2016, Cascina Ca' Rossa, Piemonte
Sicilia Alberelli di Giodo 2016, Podere Giodo, Sicilia
Tenuta di Trinoro 2016, Tenuta di Trinoro, Toscana
Trebbiano d'Abruzzo La Botte di Gianni Riserva 2013, Masciarelli, Abruzzo
Trentodoc Giulio Ferrari Riserva del Fondatore 2007, Cantine Ferrari, Trentino
Valdarno di Sopra Vigna dell'Impero 2015, Tenuta Sette Ponti, Toscana
Valtellina Superiore Sassella Vigna Regina Riserva 2009, Arpepe, Lombardia
Verdicchio di Matelica Cambrugiano Riserva 2015, Belisario, Marche
Vino Nobile di Montepulciano Asinone 2015, Poliziano, Toscana
Per partecipare alla degustazione di Milano il 14 ottobre clicca qui: Presentazione Milano
Per partecipare alla degustazione di Roma il 21 ottobre clicca qui: Presentazione Roma
Related Articles
| | | | | | |
| --- | --- | --- | --- | --- | --- |
| | I Faccini DoctorWine 2019 con 96/100 | 11/10/2018 | Redazione | Signed DW | |
| | I Faccini DoctorWine 2019 con 95/100 (1) | 09/10/2018 | Redazione | Signed DW | |
| | I Faccini DoctorWine 2019 da 95/100 (2) | 10/10/2018 | Redazione | Signed DW | |
| | Una guida laica | 08/10/2018 | Daniele Cernilli | Signed DW | |