Blind tastings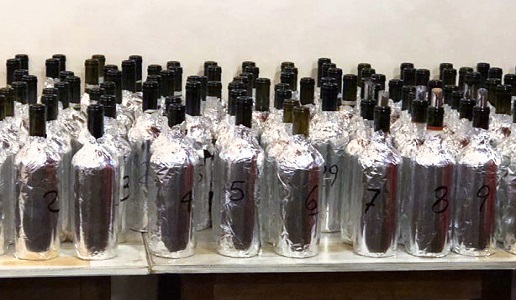 When bottle labels are covered a tasting this allows for greater attention to be paid to the technical aspects of a wine but risks losing the more emotional qualities.
I have taken part in countless blind tastings as a judge in contests in order to compile over 30 wine guides or sometimes just for fun. The vast majority of the wines were evaluated in a blind tasting in order to not be influenced by a famous label, even if sometimes I do this to not compromise my friendship with a producer or enologist. There is nothing wrong with blind tasting because it is also a way to be more transparent. The label is hidden and one tastes to evaluate the type of wine and its vintage and that's that.
But this is not exactly true. In a blind tasting, in fact, the attention is inevitably focused on the more technical aspects of a wine: the color, the expression of a varietal's aroma, whether the tannins are more or less elegant and if the acidity it evident or not. Unfortunately, this means eliminating the "emotional" aspects in a tasting that involve rapports with producers, knowledge of a certain subzone and even those tiny defects that are part of the personality of particularly important wines.
Covering the label means eliminating all these considerations and, in a way, this could constitute a problem. There is no doubt particularly artisanal wines have imperfections but they contribute to the wine's value. It is like a table made by a craftsman and one bought at Ikea. The quality of the latter will never match that of the former. It can occur, if one is not careful, that wines with great personality, even iconic ones, are penalized for being a tad volatile, like a Richebourg Leroy, or for initially having a very "yeasty" aroma, like a Trebbiano Valentini, and are sacrificed on the altar of cold perfectionism.
My approach is to cross my evaluations from blind tastings with those made knowing the wine, with the first servings as a yardstick in regard to the intrinsic quality of a wine. This works fairly well and serves to better understand a wine's complexity. It also brings out the particular characteristics of many wines and avoids losing all those emotional considerations which are the basis of passion that, in turn, is the basis of the love we all have for the world of wine.
Tasting a wine first knowing where it came from and who made it, recalling particular places and moments and then sampling it again in a blind tasting is, in my view, an efficient solution, even it not always easy to do. Nevertheless, one must always seek to improve.