Blind tasting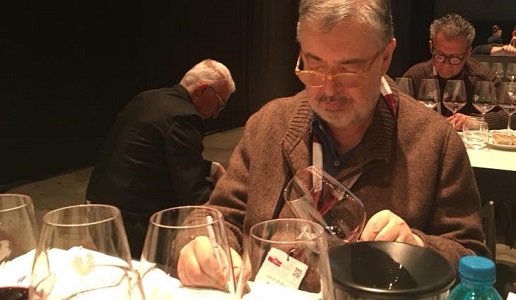 Blind tastings are not easy, they demand a great deal of concentration and skill to interpret. Added to this is the essential factor of the sequence in which the wines are presented.
After decades of blind tastings, I would like to share with you what I have understood and what are the pros and cons of this method. There are those who believe it is sufficient to cover the labels in order to be impartial and "objective" and I must say that while this point of view is based on good intentions it is also somewhat naïve.
This because blind tastings are more difficult than one would assume and it is not unusual to be totally in left field. It is not uncommon to lose concentration when you try to guess and when the tastings are done as a panel and the samples are many resulting in an unescapable tendency to prefer wines that are more immediate and have greater body, no matter what their type and origin. You have to be skilled to taste under these conditions, you have to be consistently concentrated and understand when you have to take an interpretive leap, to place the wines in their proper framework rather than judge them based only on an organoleptic point of view according to one's owe tastes.
Allow me to cite an example to better explain myself. Years ago, during a group tasting of Langhe wines for the Gambero Rosso and Slow Food guide, there was a fan and almost a fanatic for the wines of Bruno Giacosa. The Barolo were great, the Barbaresco traditional, elegant and complex but certainly not outstanding for structure. During the blind tasting, however, he consistently rated these wines below the others, which may have had a more modern style and a body with less of a punch. When the labels were uncovered, he first protested that, evidently, the samples were defective, but later he wanted someplace to hide. He then asked that his reviews be taken out of consideration because that day he was clearly out of sorts or some other excuse. And this was a person of high esteem and skill, yet one who in a context like this one became somewhat confused and lost his bearings amid all these wines.
This is just one example but I could tell you of many others that took place during similar "blind tastings", including some in which the producer himself gave a "thumbs down" to his own wine, not having recognized it, or when a famous enologist had to agree with the opinion of a less esteemed colleague. The drama was almost comic.
The truth be told, "blind tastings" are a great exercise, they allow you to understand many things, they allow you to avoid bias, even unintentional, but to end up with a reliable conclusion certain parameters need to be respected. One is to place a certain wine in different flights to see it gets the same rating or something similar. If a higher level of wine is placed with distinctly inferior ones, it will stand out. If it is place with top-self wines, then it will not shine so brightly.
It should be clear that all this has little to do with "objectivity". A key factor is the technical expertise of the taster, along with their ability to concentrate and hold up. Tasting a slew of wines is not like working in a mine but it can be more trying and, at times, even more boring than one would imagine. Sometimes you get tired, without knowing it, and slip into giving imprecise and unreliable reviews and ratings. Thus one needs to pace and manage their own efficiency. Not everyone can run a marathon, it takes training. The same goes for tastings and it is important to realise this. The bottom line is that while "blind" ratings are all well and good, sometimes the verdict is on he who judges.