Anorexic wines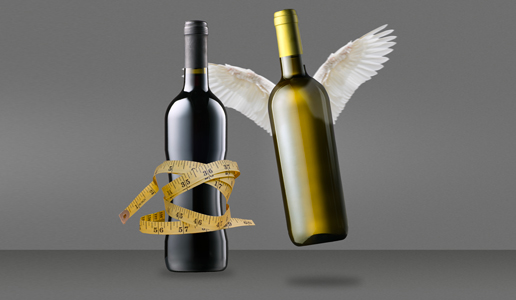 This fad, in favor of on lean or "anorexic" wines, is leading some of its followers to re-think (in an anti-historical way) the great Italian winemaking areas in a territorial way.
We are not dealing with diets or nutrition here nor in any way serious afflictions about which there is nothing to be ironic about. As always, here we talk about wine and in this case the point of view of certain wine critics who in recent years have come out in favor of lean wines which could even be defined as "anorexic".
These are wines that, aside from their origin and any real technical justification, have become leaner, which is not per se a negative thing if it enhances drinkability and a certain elegance. However, every fad has its pros and cons.
This one in favor of "anorexic" wines is a reaction, perhaps even justified but also self-serving, to Anglo-Saxon tastes in favor of bold wines or those full of extracts over those closer to tradition. In other words, this fad is against the authoritative publications Wine Advocate, Wine Spectator and Decanter, the first two American and the third British, which are able to influence the international market. Needless to say, also in question are Italian publications that seek to maintain a balance between the muscular Italian wines and those that sought to be a technical evolution of the same wines.
The preferred hunting ground for lean wine fanatics is Tuscany, both in the world famous DOCG appellations as well as Bolgheri, considered the "Great Satan" against Tuscan purity. They did not realize, and many still do not, that their extremism led to creating a recipe for making wine that sought to be a method with a set of ideological and picturesque guidelines defining freedom of expression. The main guidelines were and remain: "no barriques", which implied "only big barrels" (how big was not addressed); no cultivated yeasts, even if there is no connection with them and muscular wines; and "only native varietals". There problem here is that producers in Carmignano have been cultivating and using Cabernet and other French varietals since the time of Catherine de Medici.
What most befuddled me, the apex of the extremity in the name of lean wines, was when it was explained to me that Sangiovese had to be only cultivated at higher altitudes, above 500m. In other words, for them, Montalcino, Montepulciano and various parts of Chianti Classico were absolutely unadapt for making wine. In response to my stiff resistance to this ideology, an example was cited that was supposed to be illuminating and certainly change my mind: "Which is the best wine from the Montevertine estate in Chianti?". With confidence I replied: Pergole Torte. Wrong, they told me, it's Pian el Ciampolo! The estate's third wine which I, frankly, do not think represents the estate's core philosophy and certainly is not their showcase wine.
The movement's vision has led many of its followers to re-evaluate Italy's leading winemaking areas, even from a territorial point of view, celebrating other zones and positions that do not correspond with centuries of winemaking wisdom. The result is a rush for lands at higher altitudes with cooler temperatures and unconventional exposures, while ignoring crus that for years have been recognized for their excellence. Furthermore, the great attention towards an estate's second and third wines has caught producers by surprise and even created confusion for those who are not calm and level headed. This also caused unexpected collateral damage in regard to losing credibility, especially on international markets which do not understand certain decisions. The result is that producers are even more exposed to the international trade press which pro-anorexic wine followers want to oppose. Some producers are no longer offering samples to proponents of "anorexic" wines, a defensive position not easy for an estate, while others do not allow certain critics to visit their estates. It is my hope that this fad will run its course, especially this crazy idea that one should drink a wine in Montalcino that seems like a Chianti Classico, or one typical of Romagna Sangiovese in Montepulciano, which only works against a territorial substrata which has not been consolidated and an approach to tasting Italian wines.