A life for wine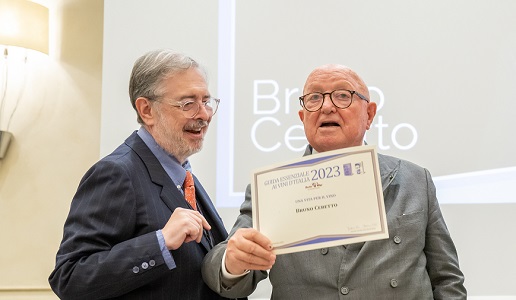 Italy has some authentic stars in the world of winemaking who are over 80 years old and have dedicated their entire life to the rebirth of Italian wine.
For several editions now, our Essential Guide to Italian Wine has awarded a prize called "a Life for Wine", which we give to someone who has left their mark on winemaking in Italy these past decades. This year it was awarded to the famous Langhe producer Bruno Ceretto, who recently turned 86. In the past we have given the prize to Ambrogio Folonari, Massimo Bernetti, Emilio Pedron, Sandro Bosciani and Riccardo Cottarella, all of whom are at least in their late 70s, some even over 80, and all authentic stars on the Italian winemaking scene.
There are many others who also deserve the prize and we will certainly take them into consideration in the future. The first names that come to mind are Piero Antinori, Nicolo Incisa, Angelo Gaja, Carlo Guerrieri Gonzaga, Marco Felluga. All have dedicated their lives to wine, to their wineries and their vineyards with formidable determination and played a key role in the 1970s and '80s to what many have defined as the Italian Wine Renaissance.
Many of them are still on the front line in their respective estates, making them authentic reference points and examples for the future generations who will inherit this truly unique wealth of knowledge, experience and passion. And while they may appear to be the "old lions", they still have a mighty roar and it is my hope they will continue doing so for many years to come.