1988: a perfect vintage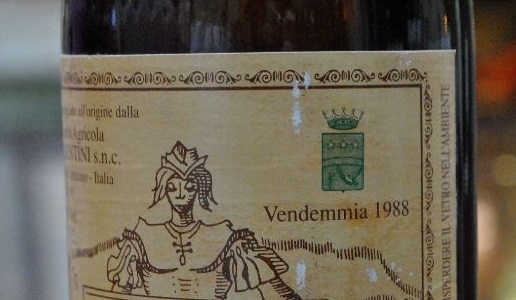 A year with weather all producers desire and which produced those great wines that became impressed on memory.
The expression "a perfect storm" is generally not applied to something positive. Here, on the other hand, I want to tell you about what was considered by many to be "a perfect year". One in which everything went right, it rained when and where needed, never too much nor too little. The months of July and August were hot but not torrid. Grapes ripened well from Trieste on down the peninsula and everything in every region went more than for the best. In some cases, the harvest could have been better but such an overall positive situation as the one in 1988 is difficult to imagine. Maybe 2016 will come close, we'll see. The 1988 harvest produced great wines just about everywhere.
This included the Sauvignon Lehenhof of Alois Lageder, the Trebbiano and Montepulciano d'Abruzzo from Valentini, the Collio Sauvignon that marked the debut of Venica as an important producer and the unforgettable Le Pergole Torte. Then there was the Sassicaia that Giacomo Tachis and even I, in part, considered to be superior to the legendary '85. This was also the first of a trio of golden vintages for the producers of Barolo and Barbaresco, with a Barolo Cerequio Chiarlo, balsamic and mentholated, which I remember with fondness, having consumed several magnums, one even recently.
There was my much loved Vigna del Vassallo (as it was called then, a name I invented with Paola Di Mauro) of Colli Picchioni, one of the very few red wines form Lazio that could stand the test of time with class. There was the Chardonnay of Gravner, still in barriques, Terre Alte of Livio and Maurizio Felluga, the humongous Merlot of Stanko Radikon and the Tocai, as it was still called back then, of Mario Schiopetto.
The Dorico of Sandro Moroder, in the Marche, Barolo Gran Bussia of Aldo Conterno, obviously Monfortino, Sori' Tildin and San Lorenzo from Angelo Gaja, Patriglione Cosimo Taurino and Duca Enrico from Corvo, the Cabernet Sauvignon of Tasca d'Almerita and the Amarone of Masi and Allegrini, perhaps the first Monte Lodoletta, always Amarone, from the then very young Romano Dal Forno and the Cabernet Fratta of Fausto Maculan and the Rubesco Vigna Monticchio and Torgiano Riserva from Lungarotti. Not to mention Fontalloro, Flaccianello, Solaia, Percarlo, Vigorello, Camartina, Cepparello, Montesodi, Pareto and the Brunello of Salvioni, Siro Pacenti, Lisin, Cerbaionai and Poggio Antico. The Vigna di Pianrosso of di Ciacci Piccolominii and Poggio all'Oro of Villa Banfi, as it was called then. And the Cerretalto of Giacomo Neri making his debut.
The great Chianti Classico of Riecine, with John Dunkley and Sean O'Callaghan, a monumental Riserva Ducale Oro Ruffino. The three wines of Castello di Ama, L'Apparita, the Chianti Classico Bertinga, no longer produced, and La Casuccia, Vino Nobile Vigna Asinone Riserva from Poliziano and the one from Poderi Boscarelli, which was still not called Il Nocio.
Among the sweet wines there was the Recioro dei Capitelli (as it was called then) of Roberto Anselmi and Passito della Rocca from Nino Pieropan. And many, many others. Those were some wines, believe me. And that vintage was a dream come true.