Italian wine exports: numbers and considerations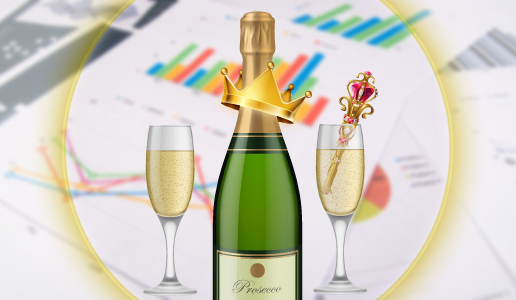 The value of exports is almost six billion euros and there is are good prospects for expanding on the "new" markets. Exports are led by sparkling wines with Prosecco at the top.
The latest data on Italian wine exports show that they have not been able to break the threshold of six billion euros in value. But even at 5.989 billion euros they were a good result compared to 5.623 billion euros in 2016, representing an increase of around 6%. On the downside, if there is one, is that the lion's share continues to go to the three leading importers of Italian wine: the United States, Germany and Britain that continue to account for 53% of exports. Downside because the prospects are not good, in a least two of them, due to Brexit and the protectionist policies of the Trump Administration.
Things are looking relatively better for Italy's relatively newer markets – France, Belgium and, in part, China – even if the trend is not sufficient to offset potential losses towards the leading importers. Exports to China, in particular, stood at about 140 million euros and are thus no longer just a drop in the bucket. While it is true that the numbers are nothing to shout about, they are on the upswing and some are hoping for a jump of as much as 20% for 2018.
Looking at the individual types of wine, sparkling wines are on a roll, especially Prosecco, with no signs of slowing down. Exports of sparkling wines amounted to 1.359 billion euros, an over 12% increase in value over the previous year. Here again, however, the US and Britain alone account for over 50% of the total. These are interesting results and there has also been an upturn for Asti sparkling wines, above all on new markets like Russia and Latvia, as well as the usual Britain, with an increase of around 6%. This very positive result represents a reversal in the trend of recent years. In fact, Russia, despite economic sanctions and other factors, appears to be re-establishing its important position also in regard to other Italian wines and this is good news.
This said, there is a consideration that must be made and this is that the sparkling wine sector is assuming a significant role in overall wine production and in regard to Italian wine exports, one that it never had before. There has also been a significant increase in the value per bottle for Italian sparkling wine exports and this at the same time that there has been a certain slow down for Champagne, one also due to the increase in price caused by the lower exchange of the British pound towards the euro considering that Britain has traditionally been a key market for the French wine.
Compared to 2010, when Italian sparkling wine exports were valued at 444 million euros, there has been an increase of some 300% in seven years. This is truly remarkable, indeed, and they upheld and continue to keep up overall wine exports in a decisive way.
And what about other Italian wine exports? Chianti Classico has significantly recovered its market share exports account for close to 80% of overall production for a total of 300,000 hectoliters. Brunello di Montalcino exports are 70% of production with almost 15% going to Asia, an encouraging result. Barolo and Barbaresco exports are 75% of production, while there has been a surge in Amarone exports with 68% of production heading abroad. Much of this is towards the US along with classic markets where Italian wines are a permanent fixture thanks to the many Italian restaurants that showcase them and thus boost their sale potential. This aspect is often overlooked despite its importance, above all on the more important markets.