The nobility of Corton-Charlemagne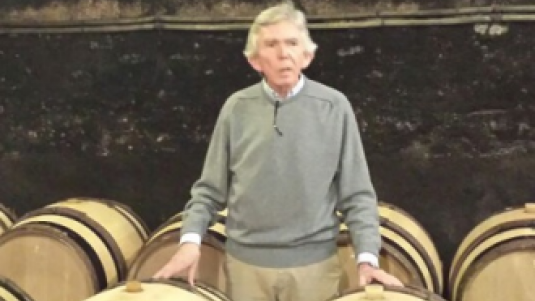 Some 150 hectares in Corton are classified Grand Cru (the most of another area in Burgundy). At its center is a hill where Cote de Nuit and Cote de Beaune meet and which is shared by three townships: Pernand Vergelesses to the west, Ladoix Serrigny to the east and Aloxe Corton. The vineyards are 95% Pinot Noir while the remaining 5% are at the top of the hill and are planted with Chardonnay, which benefit from the fresh microclimate and provide the grapes for the famous Corton-Charlemagne. The undisputed reference point of this Grand Cru is without a doubt Domaine Bonneau Du Martray, which since 1995 has been run by Jean-Charles Le Bault de la Monniere, a tall and somewhat gangling architect who has made his estate his reason to live.
His estate owns 11 hectares of vineyards, mostly old vines, which have been organically cultivated since 2004 and of these 9.5 hectares are Chardonnay, divided into 16 parcels. The wine is bold yet vertical (Jean-Charles de la Monniere says he doesn't really like 'horizontal' or persistent wines and always seeks out vertical or intense ones) with a great balance which can easily stand the test of time.
Related Products
Product
Producer
Date of publication
Author
Read
Corton-Charlemagne Grand Cru 2004
Corton Charlemagne Grand Cru
Domaine Bonneau du Martray
11/14/14
Redazione
The nose is a rich bouquet of aromatic herbs and spice and the mouthfeel is full-bodied and although it has ripe fruit, it is at the same time is fresh, saline and has great tension. Still very...
Leggi tutto
Corton-Charlemagne Grand Cru 2006
Corton Charlemagne Grand Cru
Domaine Bonneau du Martray
11/12/14
Redazione
The aroma has wave after wave of scents of ripe fruit and spice and the mouthfeel is juicy even if it has a vibrant minerality and the progression is spirited and tasty. The persistence is...
Leggi tutto
Corton Charlemagne Grand Cru 2007
Corton Charlemagne Grand Cru
Domaine Bonneau du Martray
11/14/14
Redazione

The product of a very difficult year which kept this wine from demonstrating its usual boldness even if the overall balance is still quite remarkable.

Corton Charlemagne Grand Cru 2009
Corton Charlemagne Grand Cru
Domaine Bonneau du Martray
11/14/14
Redazione

A very hot year produced a bold and potent wine but with a dynamism that says a lot about this terroir. This is a pointed white, intense and salty and with amazing depth.

Corton Charlemagne Grand Cru 2011
Corton Charlemagne Grand Cru
Domaine Bonneau du Martray
11/14/14
Redazione
The quintessence of Corton-Charlemagne. The wrapping aromas are of aromatic herbs, spice and ripe fruit which to the palate is pulpy and salty with iodine nuances. The finish is complex, taut and...
Leggi tutto
Corton Charlemagne Grand Cru 2012
Corton Charlemagne Grand Cru
Domaine Bonneau du Martray
11/14/14
Redazione
The aroma has a distinctly 'marine' note along with scents of laurel and citrus. The mouthfeel is intense, complex and firm. The finish is long, bold and nervous, perhaps a bit out of character...
Leggi tutto