Tenuta Nuova Casanova di Neri: the 20 years war (2)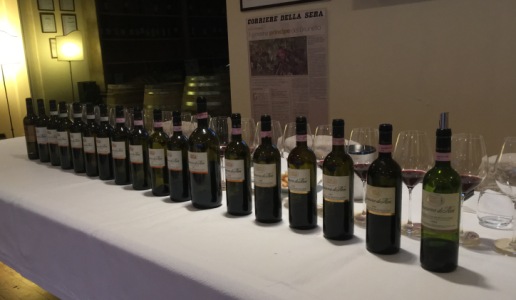 It is now time to get into the vertical tasting of the 20 years of Brunello di Montalcino Tenuta Nuova Casanova di Neri, a wine of historical importance for the appellation. In this installment we will start from 1993 (the first harvest) and go up to 2004, to finish up with the rest tomorrow.
Before we get into the vintages in question, it is important to remember that the wine was not produced in either 2002 or 2014 because of poor harvests. Also missing here is 1994 because the last bottle left of that vintage, a magnum, was corked, even if it did look very good. We also decided to skip 1999 because each bottle was too different from the other to make an overall evaluation.
As production regulations demand the wines are all made from only Sangiovese grapes, in this case from 15-hetare Tenuta Nuova vineyard situated in the southern part of Montalcino. As we stated yesterday, the wine matures in new French-oak barriques and barrels, the duration depending on the harvest, after which in ages long in the bottle.
The prices are approximate, above all in regard to the older vintages, because they are not easy to find, even if you can come across some in wine shops where they have not jacked up the price.
Casanova di Neri
Owner: Giacomo Neri
Podere Fiesole
53024 Montalcino (SI)
Tel. +39 0577 834455
Fax +39 0577 846177
info@casanovadineri.com
www.casanovadineri.com
Year of foundation: 1971
Total bottles produced: 275,000
Hectares of vineyard: 65
Extra virgin olive oil production
Related Products
Product
Producer
Date of publication
Author
Read
Tenuta Nuova

Casanova di Neri
07/04/11
Redazione
From the producer's website: Born of vineyards with unique characteristics that produce Sangiovese grapes and give a wine of great distinction and unique structure, potency and fineness....
Leggi tutto
Tenuta Nuova 1993
Brunello di Montalcino
Casanova di Neri
02/07/18
Riccardo Viscardi
The first vintage was from a young vineyard but was still very interesting. The wine has a lively garnet color and an aroma that is still intact with notes of lavender, tobacco and leather along with...
Leggi tutto
Tenuta Nuova 1995
Brunello di Montalcino
Casanova di Neri
02/07/18
Riccardo Viscardi
A garnet color and a floral bouquet that also still has notes of white cherry along with scents that are a mix of Mediterranean herbs and blackberry. The mouthfeel is not muscular and has a nice...
Leggi tutto
Tenuta Nuova 1996
Brunello di Montalcino
Casanova di Neri
02/07/18
Riccardo Viscardi
t has been a while since I had tasted such a good Brunello from this vintage. The fruit is still distinct and present with various varieties of cherry and notes from aging like autumnal underbrush...
Leggi tutto
Tenuta Nuova 1997
Brunello di Montalcino
Casanova di Neri
02/07/18
Riccardo Viscardi
This is a vintage that was overrated by the Americans. Its aroma ranges from notes of lychees, yellow peach and red jam with a sensation of leather to recall its aging. The wine remains a miracle...
Leggi tutto
Tenuta Nuova 1998
Brunello di Montalcino
Casanova di Neri
02/07/18
Riccardo Viscardi
Despite being 20 years old the wine still has a lovely ruby color and a clear bouquet with notes of blond spice and tobacco on a background of sour cherry and rose. An elegant wine in regard to...
Leggi tutto
Tenuta Nuova 2000
Brunello di Montalcino
Casanova di Neri
02/06/18
Riccardo Viscardi
A hot year that produced a slightly tired wine. This has a classic garnet color and a defined bouquet with notes of jam followed by those of leather and dark tobacco. The mouthfeel is very muscular...
Leggi tutto
Tenuta Nuova 2001
Brunello di Montalcino
Casanova di Neri
02/07/18
Riccardo Viscardi
Fantastic. The ruby color is still intense, the aroma intact and almost youthful with its streak of red and dark fruit of various varieties of cherry backed up by notes of blackberry. Everything is...
Leggi tutto
Tenuta Nuova 2003
Brunello di Montalcino
Casanova di Neri
02/07/18
Riccardo Viscardi

Another very hot year that is evident in an aroma that has notes of dried herbs, tobacco, leather and red jam. The mouthfeel is rich but not relaxing with tannins that are a bit cumbersome.

Tenuta Nuova 2004
Brunello di Montalcino
Casanova di Neri
02/07/18
Riccardo Viscardi
An intense, ruby color and an assorted aroma with notes of saffron, yellow flowers and an elegant touch of fruit. The mouthfeel is elegant and progressive with settled tannins making this an...
Leggi tutto
Related Articles