Montecariano in Valpolicella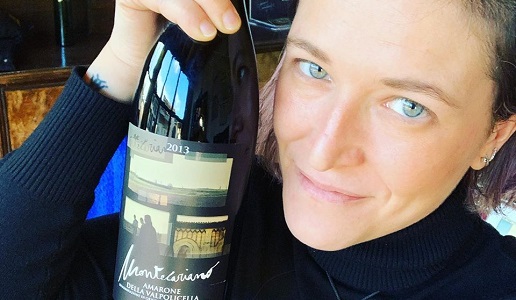 The goal of Mariella Gini, who owns the Montecariano estate along with her sons Matteo and Marco, is to use her wines to safeguard the area of Valpolicella.
"When I began in 1992 to care for my family's land in San Pietro in Variano, in the heart of the Valpolicella Classico appellation – Mariella Gini states on her estate's website – I absolutely had no doubt that this was unexplored and difficult territory for someone like me who had a classical education, specializing in archeology. During my frequent inspections of the property, which was in part cultivated with old vines which would become the heart of Montecariano production, walking the land, I kept looking for a common denominator with which to embark on this adventure, to decide the future of these 27 hectares we owned".
Montecariano is, in fact, a family-run estate that practices sustainable agriculture and has a total of 22 hectares of vineyards, for the most part of native varietals. Aside from the typical varieties of Corvina, Corvinone and Rondinella, they also cultivate Molinara, Croatina and the almost extinct Pelara and Oseleta varietals. They also have a few rows of Cabernet Sauvignon that, on its own, produces an IGT wine. The soil has a significant presence of marine fossils that contribute finesse and salinity to all the estate's wines.
Mariella, with her sons Matteo and Marco, produces 35,000 bottles a year, 30% of which is sold in Italy and the rest exported abroad.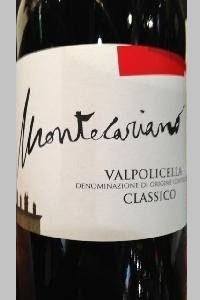 Valpolicella Classico 2017
88/100 - € 9,50
A blend of 65% Corvinone, Corvina, Rondinella and Molinara made in stainless steel. The wine has a tenuous, transparent and bright ruby color and a crispy aroma of cherry with some floral nuances of violet and finishes with scent of fresh almond while with breathing a characteristic note of black pepper emerges. The mouthfeel recalls squeezed currant and pomegranate juice with alternating sensations of acidity and sweetness to close with a pronounced tension and a fresh, slightly balsamic but not intrusive aftertaste.
Bottles produced: 8,000.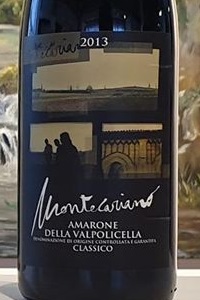 Amarone della Valpolicella Classico 2013
93/100 - € 35
A blend of 65% Corvina and Corvinone, 20% Rondinella and 15% Molinara, Croatina and Pelara that matures for 48 months in barriques and 28hl barrels. An intense red color with some purple hues and a sweet, wrapping and balanced aroma that will not leave you indifferent. The bouquet has scents of cocoa and cocoa beans together with a note of plump and ripe cherry. The mouthfeel is very salty, with some notes of baked black olive. The finish is toasty, while remaining balanced and not intrusive, leaving a pleasant sensation of cherries preserved in alcohol and blood orange. The finish is long and nicely balanced, in regard to complexity and density, with an excellent persistence.
Bottles produced: 6,000.
Related Products
Product
Producer
Date of publication
Author
Read
Valpolicella Classico 2017
Valpolicella Classico
Montecariano
02/18/20
Sissi Baratella
A blend of 65% Corvinone, Corvina, Rondinella and Molinara made in stainless steel. The wine has a tenuous, transparent and bright ruby color and a crispy aroma of cherry with some floral nuances of...
Leggi tutto
Amarone della Valpolicella Classico 2013
Amarone della Valpolicella Classico
Montecariano
02/18/20
Sissi Baratella
A blend of 65% Corvina and Corvinone, 20% Rondinella and 15% Molinara, Croatina and Pelara that matures for 48 months in barriques and 28hl barrels. An intense red color with some purple hues and a...
Leggi tutto
Montecariano

02/18/20
Redazione