Mamuthone, a wine "unmasked"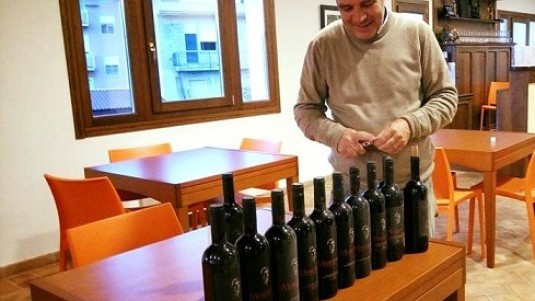 Mamoiada (Mamojà in the local dialect) is in the heart of Barbagia and in recent years it has carved an important place for itself in the varied and complicated world of Cannonau di Sardegna. The zone has just over 300 hectares of vineyards, all planted with Cannonau and almost all alberello-trained, which sit an average of 720m above sea level where the soil is mostly sandy, ideal for the variety. The estate of Giuseppe Sedilesu is in this unique and breathtaking setting of natural beauty, 17 hectares of vineyards (all alberello-trained) with an additional eight set to be planted next year, with a production of around 110,000 bottles a year.
His large family has always been involved with agriculture but only in 2002 did they begin to bottle their own wine and it met with an immediate and merited success. Francesco, Salvatore and Antonietta, the patriarch's offspring, have in just over a decade turned the estate into a leading producer on the island and beyond and this thanks to the increasing personality of their wines achieved through technical skill and territorial purity.
The Cannonau of Mamoiada has always been famous for its bold structure and high alcoholic content, often over the top, and a distinct capacity to over-ripen. The Sedilesu family appears to have been able to 'tame' these characteristics and exalt them adding a touch of elegance and freshness that this extraordinary territory had not yet been able to express. Producers here have always been 'natural' by vocation because of the ideal pedoclimatic conditions and now the Sedilescu has begun to convert to biodynamic methods and to convince other small producers in the area to do the same. This desire to work to improve the whole area of Mamoiada is a characteristic of this family and has resulted in a number of small producers sending high quality wines to the market. 
Mamuthone, named after the symbolic figure of Mamoiada, is their chief wine in regard to number of bottles produced (70,000 in 2014) and because it was the first one they bottled, only 3,000 bottles in 2000 by a group of eight winemaker friends headed by Francesco Sedilesu in the winery of Josto Puddu in Oristano. Staring with vintage 2006, Mamuthone has been aged in cement vats and in part in large barrels.
The following is the first-ever complete vertical tasting of this wine beginning with the first year of production, 2015, and ending with vintage 2015, which is still in the barrel. The only years missing is the 2010, because the wine was not made that year, and 2002, because none of the few bottles made remain for tasting. Please note that the wine's price is extremely reasonable, retailing at around 13 euros, for a product of such quality and complexity.
Related Products
Product
Producer
Date of publication
Author
Read
Mamuthone 2000
Cannonau di Sardegna
Giuseppe Sedilesu
12/01/16
Dario Cappelloni
Produced in fiberglass vats, this vintage surprised us (Francesco Sedilesu first of all) for how intact it still was, beginning with its aroma with its classic notes of Cannonau di Mamoiada orange...
Leggi tutto
Mamuthone 2001
Cannonau di Sardegna
Giuseppe Sedilesu
12/01/16
Dario Cappelloni
A total of 13,000 bottles of this vintage were produced and the wine has begun to show its age with notes of mushrooms and blond tobacco. The flavor is consistent with the aroma and the mouthfeel...
Leggi tutto
Mamuthone 2003
Cannonau di Sardegna
Giuseppe Sedilesu
12/01/16
Dario Cappelloni
Despite a torrid year, the aromas here are radiant with notes of spice, citrus and tobacco, while the mouthfeel is juicy, fresh and dynamically lively. The finish is vibrant and citrusy with very...
Leggi tutto
Mamuthone 2004
Cannonau di Sardegna
Giuseppe Sedilesu
12/01/16
Dario Cappelloni

The bouquet is very profound and clear with distinct scents of tangerine and spice. The mouthfeel is juicy and relaxed with soft and meaty tannins and a deep and fresh finish.

Mamuthone 2005
Cannonau di Sardegna
Giuseppe Sedilesu
12/01/16
Dario Cappelloni
Sumptuous aromas of spice, tobacco and ripe fruit with a mouthfeel that adds traditional boldness to a superior elegance from silky tannins and an enviable freshness. The finish is very long, austere...
Leggi tutto
Mamuthone 2006
Cannonau di Sardegna
Giuseppe Sedilesu
12/01/16
Dario Cappelloni

The bouquet is still intact with notes of tobacco and white pepper, while the mouthfeel lacks the usual dynamism even if the structure is still evident.

Mamuthone 2007
Cannonau di Sardegna
Giuseppe Sedilesu
12/01/16
Dario Cappelloni

The aromas are those of fresh white pepper and citrus together with delicate floral notes. The mouthfeel is full, meaty and balsamic and the finish long, savory and vibrant.

Mamuthone 2008
Cannonau di Sardegna
Giuseppe Sedilesu
12/01/16
Dario Cappelloni
The broad aromatic spectrum has notes of orange peel, white pepper and tobacco, while the mouthfeel is bold, rich yet balanced with a great tension and super-fine tannins. The finish is long and...
Leggi tutto
Mamuthone 2009
Cannonau di Sardegna
Giuseppe Sedilesu
12/01/16
Dario Cappelloni
This vintage is still austere and controlled but after a few minutes of breathing the aroma explodes with sensations of citrus and white pepper. The mouthfeel is sumptuous, full, very young and...
Leggi tutto
Mamuthone 2011
Cannonau di Sardegna
Giuseppe Sedilesu
12/01/16
Dario Cappelloni

A very fruity aroma with notes of blackberry and orange and a dense, very young mouthfeel that is expressive and elegant. The finish is deep meaty and fresh.

Mamuthone 2012
Cannonau di Sardegna
Giuseppe Sedilesu
12/01/16
Dario Cappelloni

The aromas are clear and well-defined, while the mouthfeel is pulpy and flavorful although it lacks the impressive persistence of the better vintages. Then again, this was not a good year overall.

Mamuthone 2013
Cannonau di Sardegna
Giuseppe Sedilesu
12/01/16
Dario Cappelloni

The bouquet has very fresh aromas of spice, citrus and licorice and the mouthfeel, while dense, is well-defined and nervous with perfect tannins. The finish is juicy, fresh and very persistent.

Mamuthone 2014
Cannonau di Sardegna
Giuseppe Sedilesu
12/01/16
Dario Cappelloni
A great year in Sardinia that allowed Mamuthone to fully express all its characteristics with tradition in perfect union with a technique that by now has reached the highest level. Bold, elegant and...
Leggi tutto
Mamuthone 2015
Cannonau di Sardegna
Giuseppe Sedilesu
12/01/16
Dario Cappelloni
Being sampled from the barrel this year cannot be rated. The wine has intense aroma of fruit, cinchona and spice and a very juicy mouthfeel which is obviously very young yet already expressive and...
Leggi tutto