Grasso's Barolo Ginestra, a squared circle (1)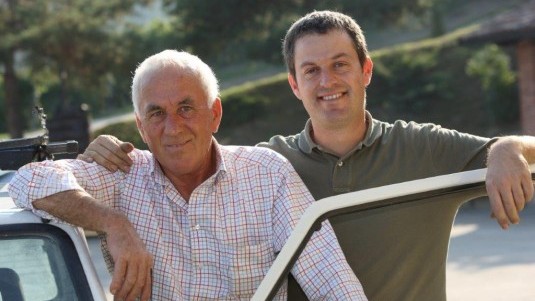 Looking at a detailed map of the vineyards in Barolo, with special attention paid to the southeast corner, a wine lover will feel shivers up his spine reading the names of the cru there: Falletto and Vignarionda, Francia, Ornato and Castelletto. All either neighbor or are very close to each other and are situated to the east of the great Bussia vineyard that stretches north from the town of Monforte to the heart of this exceptional appellation.
The Ginestra cru is right in the middle of this area with over 100 hectares of vineyards that sit at an altitude of between 300 and 500m and for the most part have south and southeast exposures. Nebbiolo is obviously the principle grape here and in this soil rich in chalk and acidity, typical for Barolo, it thrives (as it does for its 'cousin' Barbaresco, in several areas to the north of the region – Gattinara first among them – and in Valtellina).
Ginestra, which translates gorse, has become famous thanks to a number of legendary winemakers. These include Domenico Clerico, of the estate of the same name, and Claudio Conterno and Guido Fantino of the Conterno-Fantino estate, with the first producing a dark, somber wine and the second a rich and fruity one. Then there are producers who have always sought, successfully, to make a more elegant Ginestra. A leader among these is undoubtedly Elio Grasso.
With his children by his side, Gianluca first among them, Elio left a steady job in Turin in the 1970s to dedicate himself to producing great wines. His Barolo Ginestra Casa Maté has for over 20 years been one of the most sought after wines in the whole appellation.
Doctor Wine: Gianluca and Elio, how would you describe your estate?
Elio Grasso: The Ginestra vineyards have always been in our family. They represent a patrimony for our estate in an area that has always had a vocation for wine. In his 1895 monograph on winegrowing and winemaking in the province of Cuneo, agronomist Lorenzo Fantini classified the hill of Ginestra as having an "extremely choice position".
At the start of the 1980s we decided to go back to our origins. This because we knew as winemakers that we weren't going anywhere. This did not mean that we had to invent something new but rather to simply limit ourselves to respecting, in an open-minded way, the best tradition had to offer and the work done by those who came before us.
DW: Thus an approach of taking small steps at a time.
EG: Exactly. This began with a systematic replanting of the Nebbiolo, Barbera and Dolcetto vines and, starting in 1986, planting a non-native grape, Chardonnay, and 'educating' it to express the terroir.
DW: An exquisitely agronomic approach then, typical of the area.
EG: And something we are most proud of. For us, to be recognized first as farmers and secondly as winemakers is the best way to honor and continue the work of those who came before us and who faced the difficulties one encounters working with nature and for a product like wine. Our family wanted to underscore, without presumption, those convictions and manners all the families in the Langhe had and have, characteristics that need to be conserved and which make a difference.
DW: Tell us more about Ginestra.
EG: It is truly exceptional cru, nourished by a clay-chalk-loam soil with a sub-alkaline ph and benefiting from a south-southeast exposure. All this at an average altitude of 300m above sea level. The vines are traditionally cultivated: Guyot-trained with a density of some 4,500 vines per hectares and a height of 210cm. The average age of the plants is around 40 years.
DW: Glass in hand, what makes the Nebbiolo from Ginestra different from the other great neighboring cru (Mosconi, Boscareto and Castelletto)?
EG: I would never generalize about Ginestra. Our Ginestra is distinguished by its elegant and harmonious aroma-flavor while at the same time it is structured and has a long life. It is also rich in polyphenols which means that not only does it have a long lifespan but it also maintains its color. Having a long life is a typical characteristic of Monforte wines, while elegance and balance are Ginestra's trademark.
DW: Twenty years ago the zone was 'lacerated' by a conflict between traditionalists and modernists which seemed irreconcilable. It was a unique conflict for the world of wine and very different from the stylistic evolutions that took place in Burgundy, for example, where the changes in the vineyards and the winery took place in a more harmonious way. It would appear now that this conflict is water under the bridge.
EG: I have always maintained that the separation between traditionalists and modernists no longer applies to the current winemaking reality. And this, perhaps, because today a correct use of wood, whether it be barriques or other barrels, has allowed the wine to express itself best and not be over-influenced by the wood used, be it young or old. Thus one could say that winemaking has become more focused and sensible to the wine, more so than past or future fads. Wines are increasingly expressing the land and not the winery.
Tomorrow we will conclude our interview and include a Barolo Ginestra vertical tasting.