Giampaolo Tabarrini's unusual 'complaint'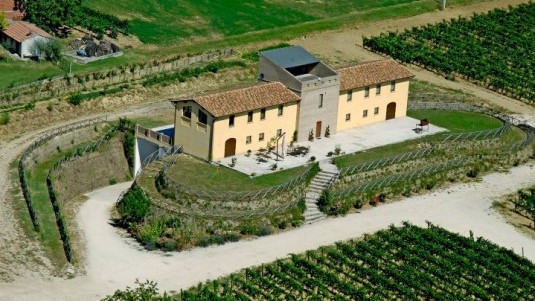 Giampaolo Tabarrini rediscovered Grero, a red grape native to Umbria that had been practically forgotten, and after several years of experimentation his Piantagrero has reached the market, a very fruity and fresh wine.
Visiting Tabarrini in Montefalco has by now become a kind of tradition and setting foot in his welcoming estate each year is always a great pleasure. Each time Giampaolo is bursting with a new project and each time, if it is possible, with greater enthusiasm than for the one before. His cellar by now has become colossal in size with new nooks and crannies to host not only his wines but also those of his friends in the spirit of sharing that so distinguishes Giampaolo's impetuous personality.
This year the novelty is different with the debut, after several years of experimentation, of his wine Piantagrana. The names sounds similar to piantagrane, which means complainer or trouble maker, and Giampalo is well aware of this and perhaps chose the name for this reason.
During a light lunch that was anything but – with enough cheese and cold cuts to feed and army followed by a first course, second and dessert – Giampaolo told me how his wine made from Grero was finally ready for its debut on the market. This took place at Vinitaly 2017 where he presented the first three vintages, which we had tasted in a preview.
The story of Grero and Giampaolo began casually in 2007 when by chance found a vine of this grape at a holiday home in Umbria. It has not been pruned for a long time and Giampaolo decided to do this and then brought the trimmings to a laboratory in order to determine its ampelographic origin. The results showed it to be a Grero, a variety native to the region that had been all but forgotten. He then gathered all the information he could about this varietal to study its natural characteristics, the shape of the leaves and consistency of the wood as well as the size and shape of its bunches but there was nothing about its organoleptic properties.
He then planted a half hectare of the variety, which later became a full hectare, and had to wait six years, to 2013, before the grapes were ready for the first harvest. From an organoleptic point of view, Grero is different from any other variety and there are no parameters to compare it with. Although the grape ripens late, it has a low alcohol level while the level of acidity is higher than other local varieties. The color of the grape is a very bold, impenetrable purple that can practically 'paint' the glass, while all the fruit and freshness overpower the tannins. It is still too soon to determine the propensity of the 2013 – the first vintage – to age and at present it is till quite young.
The following reviews are of the first three vintages to be bottled.
Tabarrini
Owner : Giampaolo Tabarrini
Frazione Turrita
06036 Montefalco (PG)
Tel. +39 0742 379351
info@tabarrini.com
www.tabarrini.com
Facebook : tabarrinimontefalco
Year of foundation : 1996
Total Bottles Produced : 70.000
Hectars of Vineyards : 18
Related Products