Barrosu is fine as it is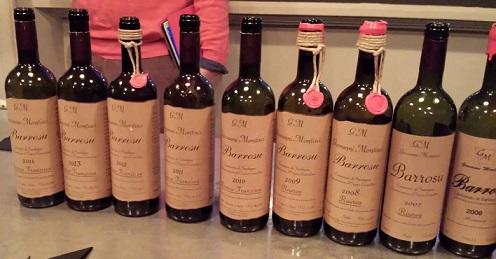 We often criticize small Sardinian producers for their reluctance, to put it mildly, to leave their beloved island. Giovanni Montisci from Mamoiada is decidedly an exception and there is no meeting of small producers, event or tasting where his Barrosu wine is not present with its impetuous and certainly efficient personality. The wine's name means bold, arrogant and Giovanni ironically chose it for his wine and as a nickname for himself.
His estate is small, just over two hectares, and he produces 6,000 bottles a year almost exclusively from Cannonau grapes. Mamoiada is in the area of Barbaglia and is becoming one of the most active towns on the Sardinian wine scene. The vineyard that produces Riserva Franzisca (which starting in 2010 has been dedicated to Giovanni's wife) sits at an altitude of some 700m above sea level and has a sandy oil with vines that are over 80 years old. The first vintage produced was 2004 but the wine is the result of 15 years of experiments and changes by a producer who started out as a mechanic but who always nurtured a passion for working with the old, local winemakers.
The estate's philosophy is simple: bring out the essence of Mamoiada Cannonau and then bolster it without sacrificing freshness or elegance. This is done through meticulous work in the vineyard without any use of chemicals, while in the winery there is little intervention with no use of selected yeasts and up until 2009 not even sulfites were added. The period of fermentation has changed over the years going from seven days in 2004 to 15 days in 2005 and to over 30 days for the more recent vintages. The wine is aged in medium-sized barrels. The vintages reviewed here are all those from 2004 to 2014, with the exception of 2010 which was unfortunately corked.
PS: Every once in a while Giovanni also produces a few hundred bottles of Moscato and Rosato (Rosé) which can be excellent.
Related Products
Product
Producer
Date of publication
Author
Read
Franzisca Riserva 2007
Cannonau di Sardegna
Giovanni Montisci
03/09/17
Dario Cappelloni
We have been lucky to have tasted this vintage on several occasions and each time it has proved its worth. The aromas are explosive, the mouthfeel is fine and bold with an ineffable freshness and...
Leggi tutto
Franzisca Riserva 2005
Cannonau di Sardegna
Giovanni Montisci
03/09/17
Dario Cappelloni

Hats off! An immense wine thanks to its style, territoriality and character. Its irrepressible freshness left us all dumfounded. A tad from perfection.

Franzisca Riserva 2004
Cannonau di Sardegna
Giovanni Montisci
03/09/17
Dario Cappelloni
The first year hit the bullseye. Considering this only fermented for five days one could not expect great structure but this vintage is definitely fresh and flavorful with a juicy and floral...
Leggi tutto