The journey of Riserva di Fizzano
An interesting vertical tasting of Riserva di Fizzano, a Chianti Classico now classified as Gran Riserva, illustrated the evolution of Rocca delle Macie: a repositioning that did not alter the nature of the estate.
Sergio Zingarelli, the owner and front man of Rocca di Macie and former president (and current vice president) of the Consorzio del Chianti, won a bet he made to himself to some 15 years ago to raise the quality of the estate his father founded in Castellina to the highest level possible. He did this by replanting much of the vineyards and creating new wines, like Grand Selezione Sergio Zingarelli, as well as redefining some of the estate's classic production. Among the latter is the historic Riserva di Fizzano, a Chianti Classico which last year was elevated to the highest quality category of Grand Selezione and for years had been the estate calling card.
In January, we took part, at the Roman restaurant Piperno, in a vertical tasting of Chianti Classico Riserva di Fizzano that included wines from the 1980s, '90s, early 2000s and the more recent vintages. Before following this wine journey, I would like to underscore the professionalism of the restaurant where, following the tasting, we were treated with decidedly flavorful and well-defined dishes that paired perfectly with other of the estate's wines, something that is becoming rarer at haut cuisine restaurants.
Gran Selezione Riserva di Fizzano is made from grapes from some 35 hectares of vineyards inside the around 65-hectare Fizzano reserve that the Zingarelli family acquired in 1984 and is today home to the estate's relais luxury resort. This vertical tasting placed us on a wheel of time in which Riserva di Fizzano punctually responded to all the innovations and ideas that accompanied the evolution of Chianti over the past 30 years.
The two vintages from the '80s, 1986 and 1988, were produced following the Ricasoli formula that included the addition of white grapes. Aside from decidedly evolved aromas, the principle characteristic of these wines were the great freshness of the flavor that was still upheld by an intense acidity. In the 1990s, the white grapes were replaced by those of international red varietals like Cabernet Sauvignon and Merlot with the wine matured in small barrels of French oak, 225-liter barriques and some 500-liter barrels. This is where the surprises began with a 2001 in perfect condition with its classic notes of ripe Sangiovese, like tobacco but also some citrus hints. The complex bouquet also had a light balsamic sensation and an alluring note of small, dark berries. The wood has been totally integrated and thus totally disproved the polemic over the use of small barrels for maturing. Aside from the lively aroma, the mouthfeel was elegant, broad and juicy with an excellent finish.
In the more recent vintages, the foreign grapes have been replaced with Colorino, a varietal much loved by consulting enologist Lorenzo Landi who, together with the estate's owner, is responsible for relaunching the estate. Vintages 2015 and 2016 demonstrated the excellent state of transformation of this very interesting wine within the Chianti appellation. The estate's new modern and intriguing approach has allowed for a return to native varietals thanks to the planting of new vineyards and a greater awareness in regard to varietals and production.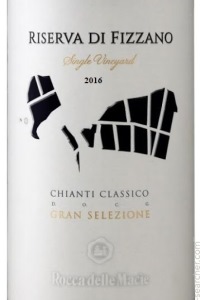 Chianti Classico Gran Selezione Riserva di Fizzano 2016
A bright and intact ruby color with a complex aroma of red fruit, sour cherry and cherry, an elegant and complex a touch of citrus and an alluring scent of blond spice. The mouthfeel has a thick texture and is elegant and progressive with a nice, refreshing acidity. The juicy finish has polished tannins and great persistence.
95/100
29 €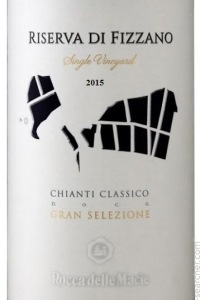 Chianti Classico Gran Selezione Riserva di Fizzano 2015
Blend of 95% Sangiovese and 5% Merlot grapes. Aged in large casks and tonneau for 2 years. Intense and lively ruby colour. Charming and firm, developing; notes of under spirit cherry, sour cherry jam, then a hint of cocoa and sweet spices. Rich, powerful and youthful palate, typical of this subzone, with firm tannins well-balanced by the alcohol warmth. Very long finish.
97/100
39 €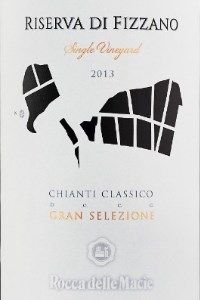 Chianti Classico Gran Selezione Riserva di Fizzano 2013
Blend of 90% Sangiovese and 10% Colorino grapes. Aged for 2 years in barrique and large casks. Intense and lively ruby. Captivating nose, spices and then the typical sour cherry and cardamom followed by scents of vanilla and white pepper. Full palate, powerful, well balanced by a fresh briny sensation, warm with well integrated firm and elegant tannin. Extremely long finish. Great vintage.
97/100
39 €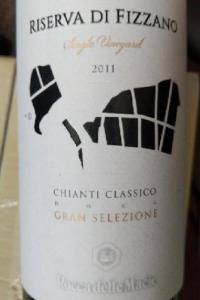 Chianti Classico Gran Selezione Riserva di Fizzano 2011
100% Sangiovese grapes. Very intense garnet ruby red color. Matures 2 years in various size barrels. Ethereal and wrapping aromas, notes of cherry choccolates, vanilla and hints of tobacco. Warm and powerful, savory, rich, thick tannins, youthful and long.
93/100
26 €
Related Products
Product
Producer
Date of publication
Author
Read
Riserva di Fizzano 2013
Chianti Classico Gran Selezione
Rocca delle Macie
02/05/19
Riccardo Viscardi
Blend of 90% Sangiovese and 10% Colorino grapes. Aged for 2 years in barrique and large casks. Intense and lively ruby. Captivating nose, spices and then the typical sour cherry and cardamom followed...
Leggi tutto
Riserva di Fizzano 2011
Chianti Classico Gran Selezione
Rocca delle Macie
02/05/19
Riccardo Viscardi
100% Sangiovese grapes. Very intense garnet ruby red color. Matures 2 years in various size barrels. Ethereal and wrapping aromas, notes of cherry choccolates, vanilla and hints of tobacco. Warm and...
Leggi tutto
Riserva di Fizzano 2015
Chianti Classico Gran Selezione
Rocca delle Macie
02/05/19
Riccardo Viscardi
Blend of 95% Sangiovese and 5% Merlot grapes. Aged in large casks and tonneau for 2 years. Intense and lively ruby colour. Charming and firm, developing; notes of under spirit cherry, sour cherry...
Leggi tutto
Riserva di Fizzano 2016
Chianti Classico Gran Selezione
Rocca delle Macie
02/05/19
Riccardo Viscardi

Rocca delle Macie

04/29/10
Redazione
The wines of Rocca della Macìe are famous for being the standard-bearer for a traditional winemaking style that is much appreciated in Italy and abroad and produces reds that are soft with...
Leggi tutto