Tenuta Bellafonte: Sagrantino from the north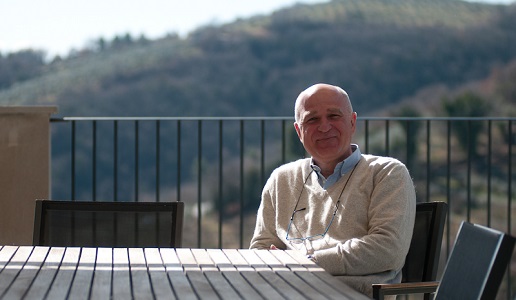 At his Tenuta Bellafonte estate, Peter Heilbron has been able to produce a Sagrantino with tannins that are not hard but elegant.
Like all important wine-producing areas, even Montefalco has its own foreigner, one who can change the cards on the table, shed new light and contribute to creating an appellation with exceptional potential in the making. Tenuta Bellafonte's Peter Heilbron is a Milan native with a German surname who a dozen or so years ago quit the multinational food sector (he held important positions at Nestlé, Perugina, Martini & Rossi and Heineken) to dedicate himself to making wine.
His cosmopolitan ways have perfectly merged with those of the county and Peter, thanks perhaps to his degree in agronomy and despite his Milanese accent, seems as if he was born in the hills of Bevagna. The decision to "drop everything, leave the city to go and make wine in the country" is an interesting yet common one to the first decade of the 21st century and no few producers who emerged during this period followed a similar path to Peter's. "When I worked for multinational companies, my goal was to come out with products that everyone would like. With wine it is the opposite and I make wine that I like," he told me.
His enchanting estate, which also offers hospitality and has a respectable spa, is set in the Bevagna countryside, at an altitude of 300m above sea level, in the heart of Sagrantino di Montefalco appellation and a stone's throw from the tiny and fascinating hamlet of Torre del Colle. The underground winery is perfectly integrated into the surrounding landscape and was designed to have a complete energy balance and a low environmental impact. The vineyards are naturally for the most part Sagrantino, planted towards the end of the 1990s, with some Trebbiano Spolentino added in 2014, for a total of eight hectares. The Trebbiano Spolentino, a varietal that can produce vigorous white wines, is being made into a number of variations and has become an ace up the sleeve for the estate. At Tenuta Bellafonte, they process it with cold maceration and fermentation in large barrels with the wine subject to malolactic fermentation and sitting on the lees for six months. And the result is one of the best wines of its kind in regard to dynamism and definition.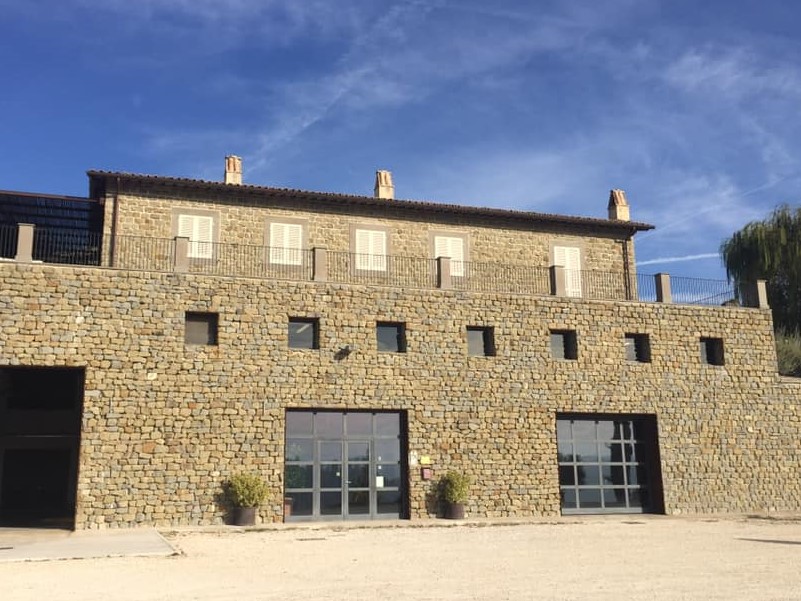 But Tenuta Bellafonte is best-known for its Sagrantino di Montefalco, a wine that from its first year stood out for its innovative interpretation of extracts and the quality of its tannins. "My main objective with Sagrantino was to seek tannins that were more elegant that usual".
Peter Heilbron: We use organic fertilizer in the vineyard, which adds structure to the soil, and we are experimenting with green manure. Pruning and harvesting are all done by hand because we have found that the vine "feels" human contact more than one would think. Grass grows between the vines which are Guyot-trained for the Sagrantino and the yield is 5,00kg per hectare. We avoid harvest late.
DoctorWine: And in the winery?
PH: The grapes are subject to further sorting on the tables before being processed. An aspect I consider decisive is destemming the grapes without pressing them. Fermentation is spontaneous thanks to native yeasts. The wine then matures in large and untoasted Slovenian-oak barrels. Malolactic fermentation is also natural and is initiated only by the temperature in the cellar. Every year we decant the wine and the wine matures in wood for a total of three years and is not filtered.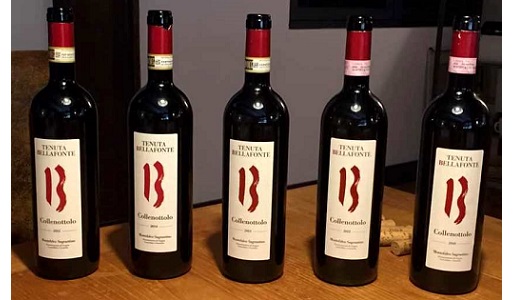 DW: It would appear premature to talk about subzones for this appellation given that Sagrantino does not seem to be easily influenced by micro-variations in climate and soil. Based on your experience, what is the difference between Montefalco and Bevagna?
PH: I can't really say, although we are lucky here in Bevagna that it hails less.
DW: What does the future have in store?
PH: I am convinced that Sagrantino is the greatest wine that can be produced here, even if it has an unwarranted reputation for being a difficult wine. I also do not consider Montefalco Rosso to be a secondary wine, quite the contrary. This because the Montefalco Rosso I intend to produce will be an important wine that is easy to approach, one which helps Sagrantino and not the opposite.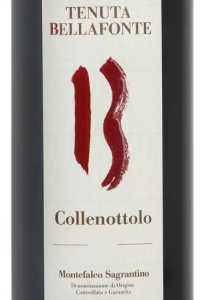 Collenottolo Montefalco Sagrantino 2015
94/100 - € 35
The product of an exceptional year, the aroma is exuberant thanks to the fruit that ushers in the usual note of cork and the hint of spice (cardamom and juniper). The mouthfeel has an impressive boldness but the tannins are what make the difference being compact and very abundant without hindering the evolution of the wine. The finish is warm yet intact. A muscular wine but extraordinarily drinkable.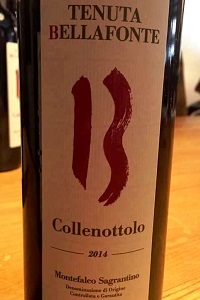 Collenottolo Montefalco Sagrantino 2014
93/100 - € 35
A difficult, wet year that was interpreted the best way possible. The wine has a distinct but not opaque ruby color and scents of dried leaves, dried fruit, incense and orange. The mouthfeel has a medium texture and magical tannins, typical for Collenottolo, and with breathing mentholated notes emerge. This wine lacks some weight but in addition has chiaroscuro elements. The fruit component is not exuberant and not misleading: this will age magnificently.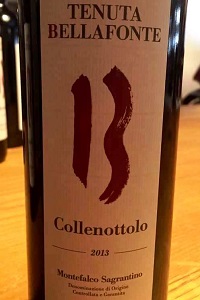 Collenottolo Montefalco Sagrantino 2013
94/100 - € 35
A Collenottolo that does not betray its solid foundation yet is fresh and flavorful, the product of a year that was not dry but gradual. The distinct ruby color has garnet hues and the aroma notes of roselle and blueberry, mint, tobacco and thyme without the note of cork many Sagrantino have. The tannins are compact and abundant and comb the palate with a very deep finish.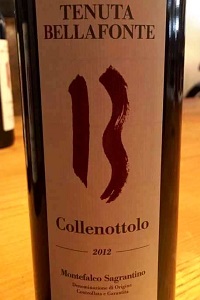 Collenottolo Montefalco Sagrantino 2012
91/100 - Bottiglia fuori commercio
The product of a very hot and dry year, the wine has a very dark color and an aroma with typical Sagrantino notes of cork that intertwine with those of cinchona, orange and juniper. The tannins are ample in the mouthfeel and exalt the typical class of a Collenottolo. A wine with a dark and shadowy personality.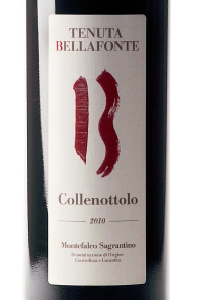 Collenottolo Montefalco Sagrantino 2010
95/100 - Bottiglia fuori commercio
A cool summer and hot autumn produced a masterpiece. The aroma is outrageous, balsamic, with notes of roots, bark and paprika on a background of fruit untouched by time. The tannins are abundant, compact and amazingly impressive, of a quality rarely found in Montefalco. The persistence is pronounced, even if a bit rigid, typical for a Sagrantino.
Related Products
Product
Producer
Date of publication
Author
Read
Collenottolo 2015
Montefalco Sagrantino
Tenuta Bellafonte
01/08/20
Francesco Annibali
The product of an exceptional year, the aroma is exuberant thanks to the fruit that ushers in the usual note of cork and the hint of spice (cardamom and juniper). The mouthfeel has an impressive...
Leggi tutto
Collenottolo 2014
Montefalco Sagrantino
Tenuta Bellafonte
01/08/20
Francesco Annibali
A difficult, wet year that was interpreted the best way possible. The wine has a distinct but not opaque ruby color and scents of dried leaves, dried fruit, incense and orange. The mouthfeel has a...
Leggi tutto
Collenottolo 2013
Montefalco Sagrantino
Tenuta Bellafonte
01/08/20
Francesco Annibali
A Collenottolo that does not betray its solid foundation yet is fresh and flavorful, the product of a year that was not dry but gradual. The distinct ruby color has garnet hues and the aroma notes of...
Leggi tutto
Collenottolo 2012
Montefalco Sagrantino
Tenuta Bellafonte
01/08/20
Francesco Annibali
The product of a very hot and dry year, the wine has a very dark color and an aroma with typical Sagrantino notes of cork that intertwine with those of cinchona, orange and juniper. The tannins are...
Leggi tutto
Collenottolo 2010
Montefalco Sagrantino
Tenuta Bellafonte
01/08/20
Francesco Annibali
A cool summer and hot autumn produced a masterpiece. The aroma is outrageous, balsamic, with notes of roots, bark and paprika on a background of fruit untouched by time. The tannins are abundant,...
Leggi tutto
Tenuta Bellafonte

10/18/13
Redazione
Tenuta Bellafonte is a stone's throw from Bevagna, near the tiny hamlet of Torre del Colle, in a magnificent and uncontaminated place. The Heibron family built a totally underground winery here...
Leggi tutto