Tenimenti Luigi d'Alessandro, Syrah Bosco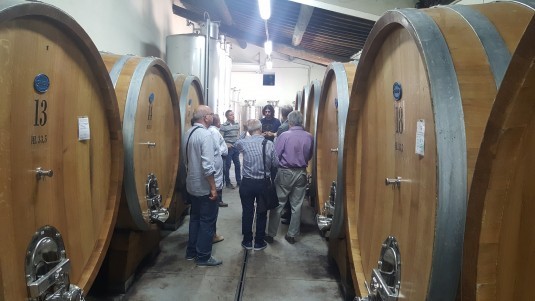 Seven vintages of Syrah Bosco (previously Il Bosco) produced by four different enologists, the last of which is the estate's new owner: Filippo Calabresi.
DoctorWine was recently invited to the famous Tuscan estate Tenimenti d'Alessadro. The invitation had two aims: to illustrate to the press the estate's latest production line and to offer a representative vertical tasting of their showcase wine: Syrah. The need for this was to illustrate the guidelines the new owners want to impose to produce and promote their own wines.
First a little background on the history of this estate. It was founded in Cortona in 1966. They immediately planted a series of experimental vineyards to ascertain which varietals responded best to the terroir and over the years two answers immerged: Syrah andViogner, two typical varieties from the Rhone Valley, in France.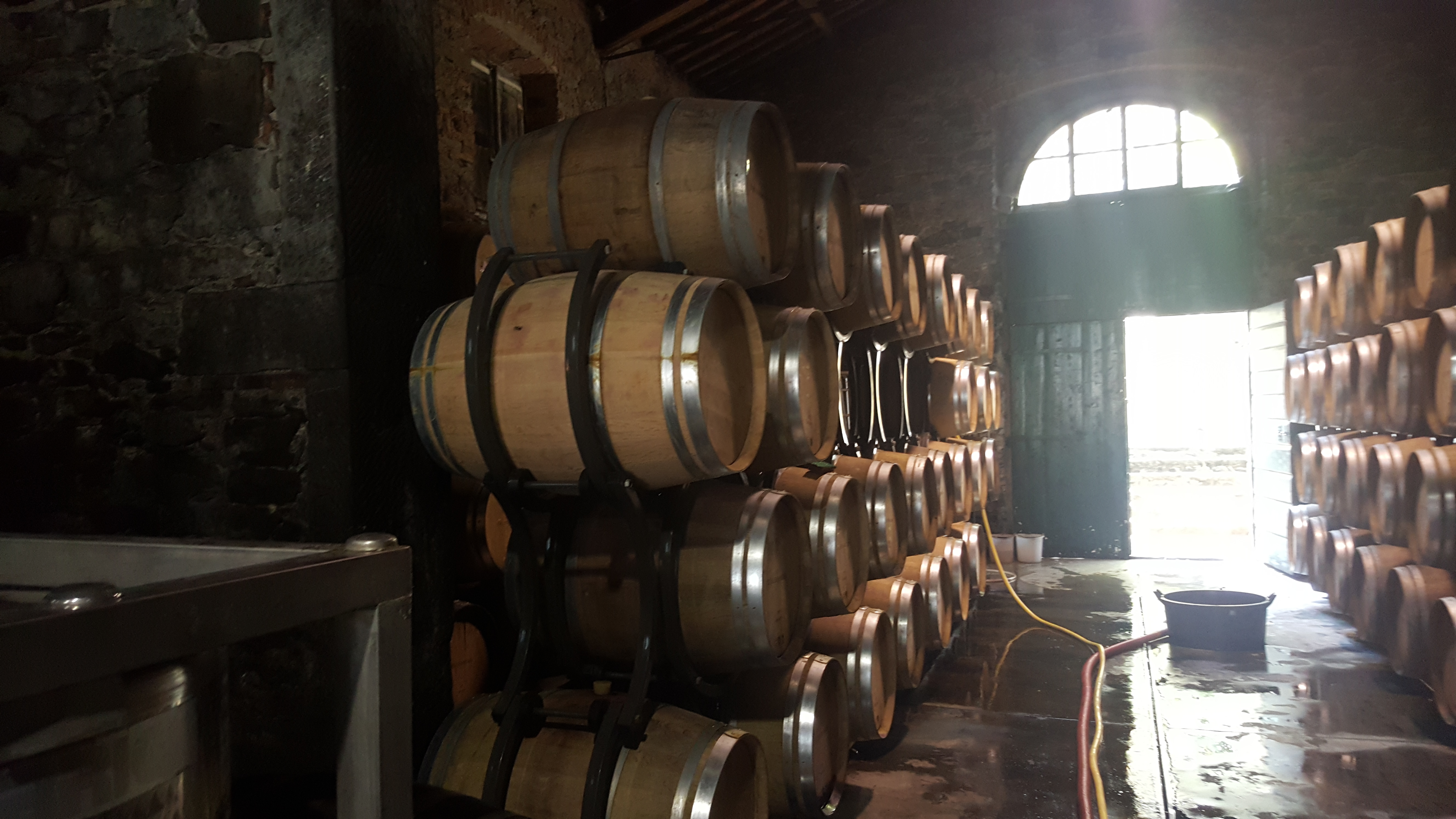 In 2007, the Calabresi family became co-owners of the estate and in 2013 were the sole owners. The estate is now in the hands of Filippo Calabresi, who is also its enologist and imposed a distinct stylistic change in the estate's wines. He also decided to take them out of the DOC Cortona appellation, which had been created in 2000 following the great results the estate had achieved with its Syrah making them they a reference point. For this reason, in the tasting notes the latest Syrah are classified as IGT.
Looking at the vineyards, you immediately notice how beautiful the landscape is, even if it is considered "minor" to the more famous areas of Montalcino, Montepulciano or Chianti, for example. In these areas the undisputed king is Sangiovese, whereas here, in the rolling, warm, dry and luminous Cortona hills - with its soil rich in lime, clay and sand - Syrah appears to have found a perfect home.
The estate has been certified organic since 2016 and, entering the winery, Filippo Calabresi said he wanted to decidedly shift towards adopting winemaking practices that responded to the tangible challenges posed by climate change. He also moved to give the ready-to-drink wines a greater immediacy and fragrance through using only stainless steel. For the Syrah wine Il Bosco, their showcase wine, two-thirds is made using the full bunches that have not been destemmed, adopting the submerged cap maceration method and allow for slow maturation in old wood containers, the way they do in the northern Rhone Valley. Which explains a lot.
As for the seven vintages offered in the tasting, I was personally and decidedly impressed by the 1995, disappointed by the 1997 and think I found a common denominator that connected, even with their respective differences, the final three vintages including the last, 2015, which was produced totally under Filippo Calabresi's supervision. I hope I was successful in illustrating the differences because the estate had a succession of four different enologists.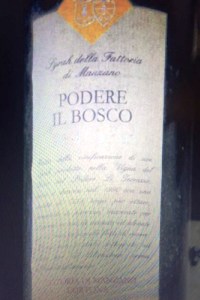 Toscana Igt Il Bosco 1995
100% Syrah from various estate vineyards. The enologist at the time was Federico Staderini and both fermentation and maturation took placed in barriques that had been sued for three years. The ruby-red color has slightly brick reflections but there is no orange edge. The bouquet is very clean with clear notes of ash, dark fruit and spice. A perfect mouthfeel with very fine tannins, great elegance and freshness and a long persistence. A bottle in great form.
94/100
€ 70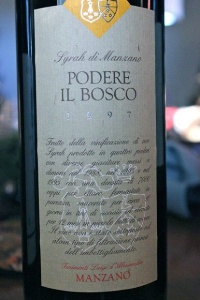 Toscana Igt Il Bosco 1997
100% Syrah only from estate vineyards and again made under Staderini's supervision. This vintage also saw fermentation and maturation in barriques that had been used for three years. The ruby-red color has turned to brick and is lackluster with an incipient orange edge. The aroma is vague with dull notes of very ripe dark fruit, while the mouthfeel is even more tired and diluted. A bottle with not much to say, like many from 1997, confirming that 1997 was a year that was too hastily considered excellent.
83/100
€ 90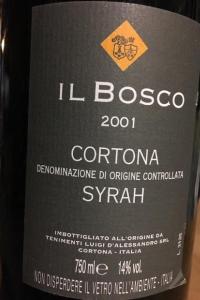 Cortona Syrah Il Bosco 2001
100% Syrah only from estate vineyards made under the supervision of enologist Stefano Chioccioli who for this year used only new-wood barriques for both fermentation and maturing. The wine has a dark, ruby-red color with bright reflections and an aroma that is not that bold and is garnished with burnt notes and dark fruit ripened to perfection. The mouthfeel is very lovely, rounded, balsamic with a lot of fruit and extremely fine tannins making this a joyous drop.
91/100
€ 34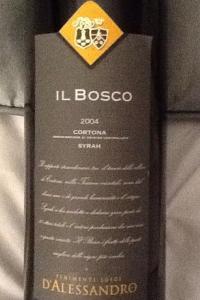 Cortona Syrah Il Bosco 2004
100% Syrah only from estate vineyards again made under the supervision of enologist Chioccioli who again fermented and matured in new barriques. The color and aromas are similar to the 2001 but the mouthfeel here is dominated by rough and uneven tannins that compromise an overall evaluation. Nevertheless, this remains a well-made and pleasing wine while quite different from the previous one.
85/100
€ 34
Cortona Syrah Il Bosco 2007
100% Syrah only from estate vineyards made under the supervision of enologist Luca Currado Vietti who used wooden conical trunk vats for fermentation while 30% of the wine was matured in new barriques and the rest in large barrels for 36 months. The wine's color is very lovely, dark and full and the aroma is decidedly spicy, mature and very assorted with notes of fresh flowers and mint. The mouthfeel has very fine and ordered tannins, is still a bit hard and edgy but very intriguing also thanks to is significant persistence.
92/100
€ 34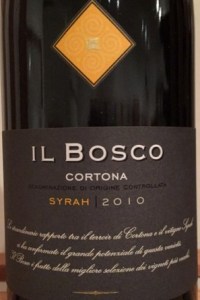 Cortona Syrah Il Bosco 2010
100% Syrah only from estate vineyards again made under the supervision of enologist Currado Vietti following the same procedure for fermentation and maturing as for the 2007. The difference is that the volume of the nose and mouth is a bit higher. The tannins are magnificent, of rare elegance, making this very drinkable.
93/100
€ 34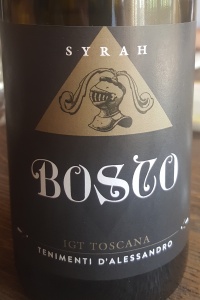 Toscana Igt Syrah Bosco 2015
100% Syrah only from estate vineyards made under the supervision of the new enologist and owner Filippo Calabresi who decided to drop the "Il" from the wine's name and redesign the labels of all the estate's wines. Two-thirds of the wine is made using the full bunches that have not been destemmed with fermentation in wooden conical trunk vats while maturation took place first for some ten months in barriques that had been used five times and then for two years in used barrels before aging in the bottle for six months.
This bottle was offered as a preview tasting and will not reach the market for another year. However, the skilled hand is already evident with an excellent management of the tannins and while the fruit may not be exuberant it is clear and fresh making this a lovely drop. For sure, this will have to be re-evaluated in a year but already it deserves a nice rating that can only increase.
Bottles produced: 13,000.
91/100
€ 34
Related Products
Product
Producer
Date of publication
Author
Read
Bosco 2015
Cortona
Tenimenti Luigi D'Alessandro
11/13/18
Vignadelmar
100% Syrah only from estate vineyards made under the supervision of the new enologist and owner Filippo Calabresi who decided to drop the "Il" from the wine's name and redesign the...
Leggi tutto
Il Bosco 1995
Cortona
Tenimenti Luigi D'Alessandro
11/13/18
Vignadelmar
100% Syrah from various estate vineyards. The enologist at the time was Federico Staderini and both fermentation and maturation took placed in barriques that had been sued for three years. The...
Leggi tutto
Il Bosco 1997
Cortona
Tenimenti Luigi D'Alessandro
11/13/18
Vignadelmar
100% Syrah only from estate vineyards and again made under Staderini's supervision. This vintage also saw fermentation and maturation in barriques that had been used for three years. The...
Leggi tutto
Il Bosco 2001
Cortona
Tenimenti Luigi D'Alessandro
11/13/18
Vignadelmar
100% Syrah only from estate vineyards made under the supervision of enologist Stefano Chioccioli who for this year used only new-wood barriques for both fermentation and maturing. The wine has a...
Leggi tutto
Il Bosco 2004
Cortona
Tenimenti Luigi D'Alessandro
11/13/18
Vignadelmar
100% Syrah only from estate vineyards again made under the supervision of enologist Chioccioli who again fermented and matured in new barriques. The color and aromas are similar to the 2001 but the...
Leggi tutto
Il Bosco 2007
Cortona
Tenimenti Luigi D'Alessandro
11/13/18
Vignadelmar
100% Syrah only from estate vineyards made under the supervision of enologist Luca Currado Vietti who used wooden conical trunk vats for fermentation while 30% of the wine was matured in new...
Leggi tutto
Il Bosco 2010
Cortona
Tenimenti Luigi D'Alessandro
11/13/18
Vignadelmar
100% Syrah only from estate vineyards again made under the supervision of enologist Currado Vietti following the same procedure for fermentation and maturing as for the 2007. The difference is that...
Leggi tutto
Tenimenti Luigi D'Alessandro

05/12/10
Redazione