Raone, a long-life Greco di Tufo from Torricino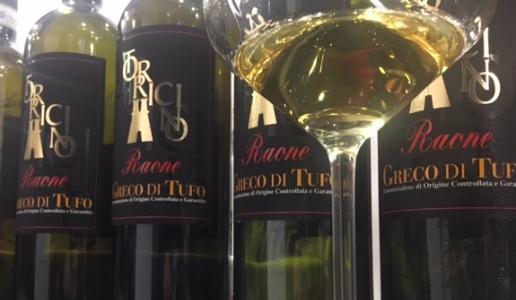 A brief vertical tasting of Raone, a Greco di Tufo from the Torricino winery that has a particular propensity to age and is made with grapes from a vineyard planted in an old sulfur quarry.
Stefano Di Marzo is an enologist and agronomist at his family estate that for four generations has been involved with wine. Their winery in Tufo started off producing and selling grapes before, in 2002, Stefano took a degree in enology and, with the help of his sister Federica, began to produce wine. From the beginning, Stefano and Federica focused on quality and bringing out the land in their wines by applying innovative technology in the winery but without betraying the winemaking traditions of their family. Over the years their wines have had constant success and thanks to their efforts – as well as those of other producers in the area who were like-minded – they demonstrated that Greco di Tufo can be a wine with a great and unique personality as well as with a definite propensity to age.
The Torricino estate has 11 hectares of vineyards where they also cultivate Falanghina, Fiano and Aglianico. The vineyards are spread out in eight districts located in the better winegrowing areas of Tufo and sit at an altitude of around 400m above sea level with soils rich in clay and lime lined with sulfur. The vineyard producing Greco di Tufo Raone is located in an old sulfur quarry where there are still yellow clumps of earth. It has an 'ancient' density of almost 3,000 root stocks per hectare with vines having an average age of around 25 years. Since 2004, the year Raone was born (it is made only in good years), there has been a rigorous selection of grapes in both the vineyard and the winery. In fact, the wine is made using free-run must with the rest, which is still very good, used to produce their vintage Greco di Tufo. The wine ferments in stainless steel and matures on the lees for six months before aging in the bottle for another six months.
Here are four vintages I selected to underscore the wine's characteristics based on the sensations they gave me.
Torricino
Owner: Stefano Di Marzo
Località Torricino, 5
83010 Tufo (AV)
Tel e fax +39 0825 998119
info@torricino.it
www.torricino.it
Facebook: torricinoazienda
Year of foundation: 2002
Hectares of vineyard: 11
Extra virgin olive oil production
Related Products