Fontalloro: a Tuscan sage (1)
1983 was the first vintage of Fontalloro Felsina, a great red wine made only from Sangiovese grapes that arrived on the wave of the so-called Super Tuscans.
I was one of the first people to taste this wine when its first vintage, 1983, came out. It was offered by the glass by Sergio Ceccarelli at his Il Goccetto wine shop on via dei Banchi Vecchi in the heart of Rome, which had opened a couple of years before. "It is a new red from Felsina, the winery just outside Castelnuovo Berardenga. I like it a lot and even if it is one of those Super Tuscans it seems more like a very good Chianti Classico to me". The so-called Super Tuscans were just becoming popular back then (the term was invented by James Suckling, at the time an enfant prodige at Wine Spectator) and they were wines that while not having a DOC classification were both experimental and very good at the same time.
The first Super Tuscans were Sassicaia and Tignanello, which were followed by Vigorello San Felice, Sangioveto Monsanto and, later, Le Pergole Torte Montevertine, Coltassale Fontodi, Concerto Fonterutoli and, immediately after, Fontalloro. The latter was made only from Sangiovese grapes, something that at the time ruled out it being classified as a Chianti Classico. The wine's label was designed by Paolo Guardenti on an initial idea by Silvio Coppola, a very famous designer at the time, who had already done the labels for Chianti Classico Berardenga as well as Tignanello and several Ceretto wines from Alba.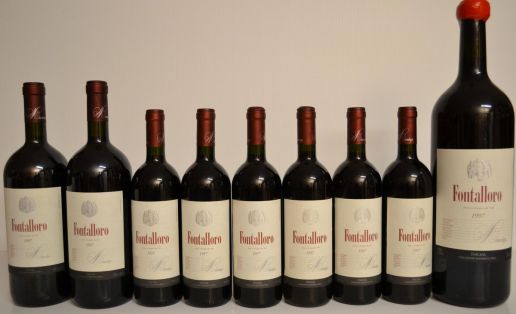 The winery was, and still is, owned by the Poggiali family but running the winery was a young liberal arts teacher who fell in love with wine and who was the son-in-law of family patriarch Domenico: Giuseppe Mazzocolin. The technical consultant was an equally young and promising enologist: Franco Bernabei, who today is one of Italy's leading winemakers who began his cursus honorum at Felsina more than 30 years ago. The Castelnuovo Berardenga vineyards are in part in the Chianti Classico appellation and in part that of Chianti Colli Senesi, another reason why the wine could not classify as a Chianti Classico. At the same time Fontalloro was created, taking its name from the area the grapes were from, Felsina began producing Chianti Classico Riserva Rancia, which while the same vintage, 1983, came out a year after.
Over the years, Felsina expanded, first acquiring the Castello di Farnetella, an estate near Sinalunga and thus totally in the province of Siena and outside Chianti Classico, and then in 1995 the nearby Pagliarese estate. Today they have just under 100 hectares of vineyards for an annual production of close to half a million bottles.
Although much time has passed, Fontalloro has remained true to itself. It is a great red made from Sangiovese, one third of which matures in new barriques, but above all it is a territorial and unmistakable wine. Its aromas of damp earth and underbrush recall those hills of clay, sand and marl, as well as the luminous landscape, and give the wine its distinct personality. When young, this wine can be difficult and edgy, tannic like a Barolo, but with aging it settles down and relaxes, like a sage unafraid of time.
None of the vintages reviewed here showed any signs of oxidation that hid the primary aromas with scents too centered on licorice or, worse, glutamine. In fact, there further back I went, having tasted these vintages when they were young, the more I could recognize a distinct stylistic consistency and an amazing propensity to age without losing any of its original characteristics. There are not many wines in the world for which this is true. We will see this more in detail in tomorrow's vertical tasting.
Related Products