Camp Gros Martinenga, the elegance of Barbaresco (2)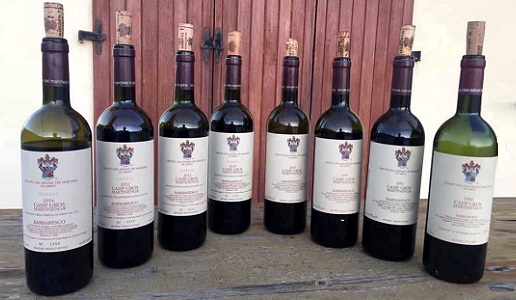 After yesterday's interview with Alberto Cisa Asinari dei Marchesi di Gresy, today we have a vertical tasting of one of the estate's showcase wines: Barbaresco Riserva Camp Gros.
Martinenga is an Added Geographic Mention (MGA) Barbaresco vineyard that is entirely owned by the Tenuta Cisa Asinari dei Marchesi di Gresy estate (what the French would call a monopole). The estate has been able to bring out the natural diversities within the vineyard, pinpointing two particular subzones: Gaiun and Camp Gros.
This tasting focuses on Barbaresco Riserva Camp Gros and goes beyond the latest vintages to as far back as 1996 and 1987. All the wines are 100% Nebbiolo, mature for around a year in French-oak barriques (new and used) and then an additional year and a half in Slavonian-oak barrels before aging long in the bottle.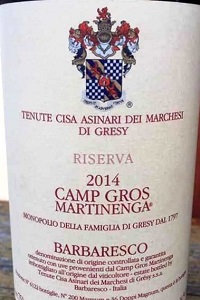 Barbaresco Riserva Camp Gros Martinenga 2014
95/100 - € 100
The tasting opens with a vintage that was not what would be considered great but extremely pleasing. A ruby color with a light, garnet edge and an aroma full of fruit, with a light note of violet and balsamic nuances of mint and cardamom which will prove to be the wine's trademark. The mouthfeel lacks a tad of complexity but makes up for it with very fine tannins and an enviable homogeneity in the progression with a floral finish and notes of violet and rhubarb. Very elegant. Very pleasurable.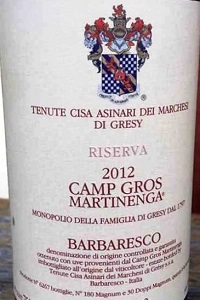 Barbaresco Riserva Camp Gros Martinenga 2012
97/100 - € 100
Here is the first masterpiece in the tasting. A ruby color with a light, garnet edge and a balsamic aroma with wonderful scents of mint and cardamom on a background of raspberry. The mouthfeel has pronounced and "granulated" tannins, which need to work themselves out, and a flavorful and very long finish that has notes of mint, rhubarb and raspberry. Breathing does nothing to compromise this wine. To drink now or over the next 30 years.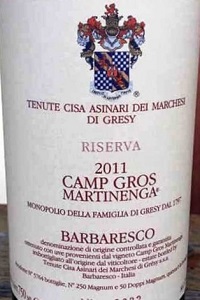 Barbaresco Riserva Camp Gros Martinenga 2011
94/100 - € 100
A very dark, ruby-garnet for this type of wine with an open bouquet that has notes of dried violet, dark spice and rhubarb. The mouthfeel is monumental, full, with rough and stratified tannins that are never isolated. The fresh finish has notes of prune and balsamic and tarry sensations. The best wine in the tasting from a structural point of view. To drink now or over the next 10 years.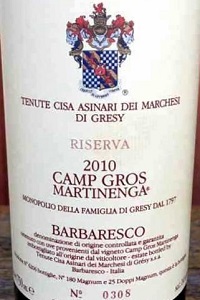 Barbaresco Riserva Camp Gros Martinenga 2010
96/100 - € 100
A ruby-garnet color and austere aroma with notes of iron, dried violet, sandalwood and licorice. The broad mouthfeel is very tannic, thus needs needing time to evolve, and has a flavorful, mentholated and very long finish, leaving no doubt as to the wine's propensity to age. Nevertheless, wait to drink this for at least 5-10 years, unless you're a big fan of hard and austere Barbaresco. Once this comes of age it will be exceptional.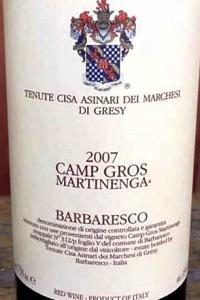 Barbaresco Camp Gros Martinenga 2007
93/100 - € 100
Whoever said that a great Barbaresco cannot be both great and fruity? A full, ruby-garnet color and fruity aroma that is full and rounded with nuances of fresh mint and a touch of cardamom, while the mouthfeel is literally stuffed with fruit and has a touch of wood (vanilla). The finish leaves room for fruit and mentholated notes. A sunny wine and at the same time one full of personality with notes of medicinal herbs in the aftertaste and not excessively warm. This will continue to age well but I would not wait.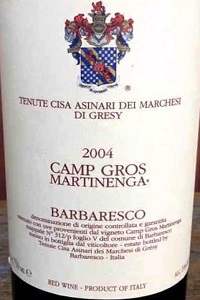 Barbaresco Camp Gros Martinenga 2004
99/100 - € 100
A profound, luminous garnet color with aromas that will send shivers down your spine: mint, licorice, cardamom and a touch of citrus on a background of raspberry and violet. The mouthfeel is also immense, with stratified tannins that never cause problems and a musical, balsamic, very flavorful and endless finish. Like all top-quality wines, the palate is always intact. It is rare to find such boldness and drinkability come together in a Barbaresco. A masterpiece not to be missed with many decades ahead of it. At 100 euros this has an excellent quality/price ratio.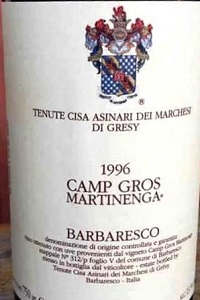 Barbaresco Camp Gros Martinenga 1996
91/100 - € 100
A pronounced garnet color, dark for a Barbaresco. The bouquet is also dark and shadowy with notes of burnt bouillon cube, goudron and licorice root on a background of blueberry gelatin. The mouthfeel is savory and very broad and still very thick, with tannins that still hold up, while the aftertaste is a bomb of licorice and rhubarb. This vintage again proves to be mysterious, one full of character but selective in regard to drinkability. More 1996 than Martinenga, this was the only wine in the tasting with a balsamic note. Only for great wine lovers for whom this will be a psychedelic trip. The first wine that needs to be decanted and it may still need to age another ten years or so.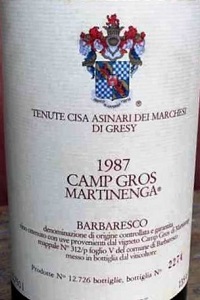 Barbaresco Camp Gros Martinenga 1987
88/100 - € 100
An average, forgotten vintage that had the misfortune to come before the three-year 1988-89-90 run that was rightfully historic. The vintage will be remembered not for having produced great wines but delicate ones that have a basic freshness that was never cutting. And this wine is still around to show this with its light, garnet color and orange edge. The bouquet is not focused and opens with notes of leather, fresh figs, damp wood, rainwater and tilled earth on a background of red apple juice. The light mouthfeel has a citrusy and mushroom attack with a distinct note of red apple on the palate, compact tannins and a fresh finish with sensations of red apple, cola and cardamom. The way the wine breathes is admirable. A wine one can still drink with joy and that is in no way demanding at the table.
Related Products
Product
Producer
Date of publication
Author
Read
Camp Gros Martinenga Riserva 2014
Barbaresco Riserva
Tenute Cisa Asinari dei Marchesi di Gresy
04/02/20
Francesco Annibali
The tasting opens with a vintage that was not what would be considered great but extremely pleasing. A ruby color with a light, garnet edge and an aroma full of fruit, with a light note of violet and...
Leggi tutto
Camp Gros Martinenga Riserva 2012
Barbaresco Riserva
Tenute Cisa Asinari dei Marchesi di Gresy
04/02/20
Francesco Annibali
Here is the first masterpiece in the tasting. A ruby color with a light, garnet edge and a balsamic aroma with wonderful scents of mint and cardamom on a background of raspberry. The mouthfeel has...
Leggi tutto
Camp Gros Martinenga Riserva 2011
Barbaresco Riserva
Tenute Cisa Asinari dei Marchesi di Gresy
04/02/20
Francesco Annibali
A very dark, ruby-garnet for this type of wine with an open bouquet that has notes of dried violet, dark spice and rhubarb. The mouthfeel is monumental, full, with rough and stratified tannins that...
Leggi tutto
Camp Gros Martinenga Riserva 2010
Barbaresco Riserva
Tenute Cisa Asinari dei Marchesi di Gresy
04/02/20
Francesco Annibali
A ruby-garnet color and austere aroma with notes of iron, dried violet, sandalwood and licorice. The broad mouthfeel is very tannic, thus needs needing time to evolve, and has a flavorful,...
Leggi tutto
Camp Gros Martinenga 2007
Barbaresco Riserva
Tenute Cisa Asinari dei Marchesi di Gresy
04/02/20
Francesco Annibali
Whoever said that a great Barbaresco cannot be both great and fruity? A full, ruby-garnet color and fruity aroma that is full and rounded with nuances of fresh mint and a touch of cardamom, while the...
Leggi tutto
Camp Gros Martinenga 2004
Barbaresco Riserva
Tenute Cisa Asinari dei Marchesi di Gresy
04/02/20
Francesco Annibali
A profound, luminous garnet color with aromas that will send shivers down your spine: mint, licorice, cardamom and a touch of citrus on a background of raspberry and violet. The mouthfeel is also...
Leggi tutto
Camp Gros Martinenga 1996
Barbaresco Riserva
Tenute Cisa Asinari dei Marchesi di Gresy
04/02/20
Francesco Annibali
A pronounced garnet color, dark for a Barbaresco. The bouquet is also dark and shadowy with notes of burnt bouillon cube, goudron and licorice root on a background of blueberry gelatin. The...
Leggi tutto
Camp Gros Martinenga 1987
Barbaresco Riserva
Tenute Cisa Asinari dei Marchesi di Gresy
04/02/20
Francesco Annibali
An average, forgotten vintage that had the misfortune to come before the three-year 1988-89-90 run that was rightfully historic. The vintage will be remembered not for having produced great wines but...
Leggi tutto
Tenute Cisa Asinari dei Marchesi di Gresy

06/20/11
Redazione
Alberto di Gresy is one of those rare Piedmont aristocrats who has continued his family's winemaking tradition. His family has owned Tenuta Cisa Asinari since 1797 and he has been running it...
Leggi tutto
Related Articles