A Sabbia di Sopra il Bosco Nanni Copè anthology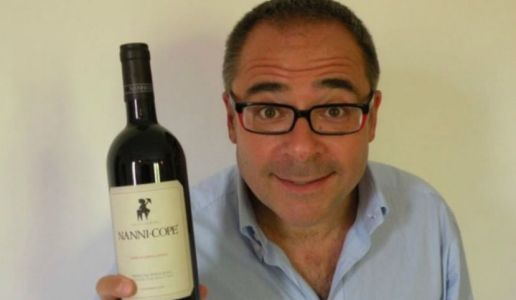 An extraordinary wine with a distinct Mediterranean personality. Here are the vintages not to be missed.
A tasting of Sabbia di Sopra il Bosco, produced by Nanni Copè, was both unique and difficult to repeat. The vintages offered were from the first to last plus a preview of the reserve R2, which will be available retail this coming spring. This historic vertical tasting was an important focus on this cult Campanian wine to which even the authoritative American economic and finance magazine Forbes has dedicated a feature article.
This extraordinary wine, with its well-defined personality, has been produced since 2008 by Giovanni Ascione in a small area on the Caiazza Hill and within the Terre del Volturno appellation. The wine, its name (the sand in the forest above) a reference to the composition of the soil of the vineyard composed of sandstone sand, is made with three varieties of red grapes, two of which are relatively unknown outside the region of Campania: Pallagrello Nero(some 90% of the blend) with additions of Casavecchia and Aglianico (clone VCR 23). The wine ferments in stainless steel vats and matures for around a year in new and used barrels.
It was an immediate success from the first year it was produced and this continues year after year with production, currently around 8,000 bottles, selling out even before it is available retail.
The wine has a distinct southern, Campanian personality and is elegant and complex with precision and a propensity to age. These winning traits of Sabbia di Sopra il Bosco reach a peak with Riserva R 12, which Giovanni let mature in select barrels for 40 months. An authentic star.
The following are the reviews of some of the wines offered at the tasting, selected based on the weather of that year and the different characteristics that emerged during the tasting which left us speechless.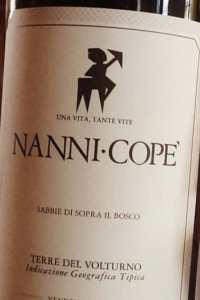 Sabbie di Sopra Il Bosco Terre del Volturno Rosso Igt 2017
A purple color and complex aromas of dark and red fruits, orange peel, a light balsamic sensation and a fine note of medicinal herbs. The mouthfeel is intense and rich with slightly jittery tannins, given the wine's young age. The finish is warm and fresh with a saline streak. A wine with an excellent progression and long aftertaste. A very lovely version.
Bottles produced: 7,720
96/100
€ 38,00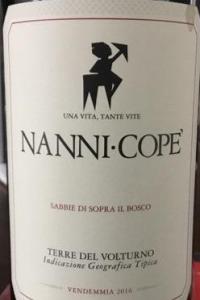 Sabbie di Sopra Il Bosco Terre del Volturno Rosso Igt 2016
An intense, ruby color and a broad aroma with scents of black cherry, violet and humus and a balsamic hint. The mouthfeel has a muscular structure and is thick with very fine tannins with an excellent progression towards an elegant finish of rare length.
Bottles produced: 6,500.
96/100
€ 38,00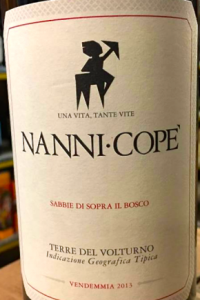 Sabbie di Sopra Il Bosco Terre del Volturno Rosso Igt 2013
A ruby color with garnet hues and a complex and explosive aroma with notes of current, prune, mint and thyme that alternate with refined smoky nuances. A bold and structured mouthfeel with velvety tannins and a fine, agile and saline finish with a pleasing and long persistence.
Bottles produced: 7,500.
95/100
€ 32,00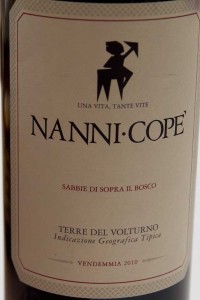 Sabbie di Sopra Il Bosco Terre del Volturno Rosso Igt 2010
A bright and luminous color and mentholated notes of resin, sour cherry, pepper and blond tobacco that usher in a complex, composed and pronounced mouthfeel that is pleasingly saline and wrapping with a distinct acidity that ensures freshness and drinkability. The aftertaste is persistent and long.
Bottles produced: 7,000
96/100
€ 59,00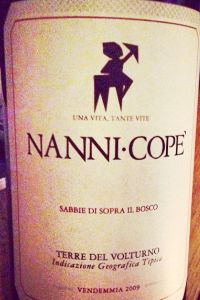 Sabbie di Sopra Il Bosco Terre del Volturno Rosso Igt 2009
The first vintage produced has a lively and bright garnet color with a very complex aroma with notes of violet, blueberry and rhubarb while scents of dried flowers and a subtle spice sensation complete the broad bouquet. The mouthfeel is fresh, agile and has a surprising drinkability. A vigorous wine that over time has acquired balance and finesse.
Bottles produced: 7,000
95/100
€ 39,00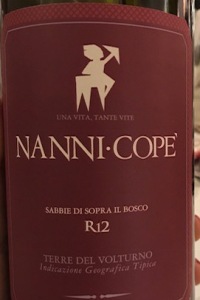 Sabbie di Sopra Il Bosco R12 Terre del Volturno Rosso Igt 2012
A dark and intense ruby color and a particularly balsamic and austere aroma with notes of thyme, sage, blood orange and hints of resin followed by scents of violet and sour cherry along with a smoky nuance. The mouthfeel shows its youth with its distinct acidity that upholds the composed and impeccable structure while thick and widespread tannins complete the framework of great harmony. A refined wine with a deep and marine finish.
Bottle produced: 2,500.
97/100
€ 110,00
Related Products
Product
Producer
Date of publication
Author
Read
Sabbie di Sopra Il Bosco 2017

Nanni Copé
02/07/19
Antonella Amodio
A purple color and complex aromas of dark and red fruits, orange peel, a light balsamic sensation and a fine note of medicinal herbs. The mouthfeel is intense and rich with slightly jittery tannins,...
Leggi tutto
Sabbie di Sopra Il Bosco 2016

Nanni Copé
02/07/19
Antonella Amodio
An intense, ruby color and a broad aroma with scents of black cherry, violet and humus and a balsamic hint. The mouthfeel has a muscular structure and is thick with very fine tannins with an...
Leggi tutto
Sabbie di Sopra Il Bosco 2013

Nanni Copé
02/07/19
Antonella Amodio
A ruby color with garnet hues and a complex and explosive aroma with notes of current, prune, mint and thyme that alternate with refined smoky nuances. A bold and structured mouthfeel with velvety...
Leggi tutto
Sabbie di Sopra Il Bosco 2010

Nanni Copé
02/07/19
Antonella Amodio
A bright and luminous color and mentholated notes of resin, sour cherry, pepper and blond tobacco that usher in a complex, composed and pronounced mouthfeel that is pleasingly saline and wrapping...
Leggi tutto
Sabbie di Sopra Il Bosco 2009

Nanni Copé
02/07/19
Antonella Amodio
The first vintage produced has a lively and bright garnet color with a very complex aroma with notes of violet, blueberry and rhubarb while scents of dried flowers and a subtle spice sensation...
Leggi tutto
Sabbie di Sopra Il Bosco R12 2012

Nanni Copé
02/07/19
Antonella Amodio
A dark and intense ruby color and a particularly balsamic and austere aroma with notes of thyme, sage, blood orange and hints of resin followed by scents of violet and sour cherry along with a smoky...
Leggi tutto
Nanni Copé

06/12/13
Redazione
Giovanni Ascione is a passionate winemaker who produces a great red wine, Sabbie di Sopra il Bosco (Sand Above the Forest), the name a reference to the composition of the vineyard's soil. But...
Leggi tutto