You say Rosato, you say Puglia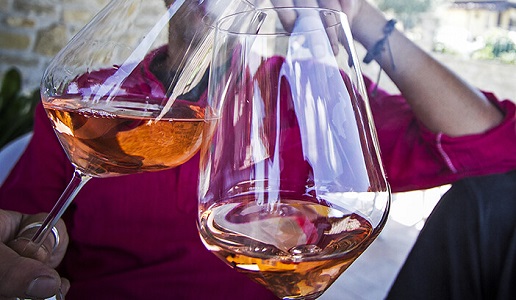 The tradition of Apulian rosés is well established. We offer two, one from Aglianico grapes and one from Negroamaro. Which one intrigues you the most?
Pink wines, you know, can be made from any red grape variety; the color depends on how long the must stays in contact with the grape skin, which is what contains the coloring substances. We have so many grapes in Italy that there are a thousand different rosés, but some grapes have proven over time to be better suited to producing fragrant and elegant rosés, which are what the market demands.
Puglia's long tradition of rosés draws on the many local grapes, including Negroamaro, Primitivo, but also Aglianico or Nero di Troia. We propose two, the choice is yours.
The first is the Aglianico Ondarosa from Amastuola, a winery in Massafra, in the province of Taranto, where Peppino Montanaro, together with his children Filippo, Ilaria and Donato and with the collaboration of his son-in-law Giuseppe Sportelli, has brought this splendid farm back to its former glory. Wine has been made here for at least four centuries, and the structure of the Masseria, recovered with particularly careful restoration work, is a splendid wine resort. Particularly interesting is the "wave" vineyard, with rows that meander and follow the lines of the hills, designed by garden architect Fernando Caruncho.
The second, however, is Apollonio's Diciotto Fanali, a Rosato del Salento from Negroamaro grapes. Dating back to 1870, the Apollonio winery is a true institution in Salento, extending over 100 hectares where native and international grape varieties are grown, but the family's intent has always been the enhancement of Salento's identity grape varieties: Negroamaro and Primitivo, but also Malvasia nera, Susumaniello and Bianco d'Alessano. Marcello and Massimiliano Apollonio, the fourth generation at the helm of the winery, produce wines between tradition, history and innovation.
Translated with www.DeepL.com/Translator (free version)
Puglia Rosato Ondarosa 2020 Amastuola
91/100 - € 7,50
100% Aglianico grapes cryomacerated for 24 hour. Stainless steel only. Cherry pink color. Aromas of roses, raspberries and strawberries. Fresh taste, nice personality, very evident savory note, great drinkability, balanced finish with a delicate tannic hint.


Salento Rosato Negroamaro Diciotto Fanali 2017 Apollonio
90/100 - € 13,00
100% Negroamaro grapes. Ferments and matures in acacia barriques for 6 months. Salmon pink color with orange hues. Aromas of candied citrus, cerries, ripe apricots and rosemary. Evident fruity notes in the mouth, good acidity. Pleasant finish, spicy and long.


Related Products
Product
Producer
Date of publication
Author
Read
Ondarosa 2020

Amastuola
06/21/22
Fabio Casamassima
100% Aglianico grapes cryomacerated for 24 hour. Stainless steel only. Cherry pink color. Aromas of roses, raspberries and strawberries. Fresh taste, nice personality, very evident savory note, great...
Leggi tutto
Amastuola

01/07/15
Redazione
Peppino Montanaro, with his children Filippo, Illaria and Donato, together with his son-in-law Giuseppe Sportelli, has restored this splendid masseria farm estate to its ancient glory. Wine has been...
Leggi tutto
Diciotto Fanali 2017
Salento
06/21/22
Redazione

Apollonio

08/05/15
Redazione
Dating back to 1870, the Apollonio estate is an authentic institution in Salento with its close to 100 hectares of domestic and international varietals, but the intent of the family has always been...
Leggi tutto