Massimo Ronca, from the bank to the winery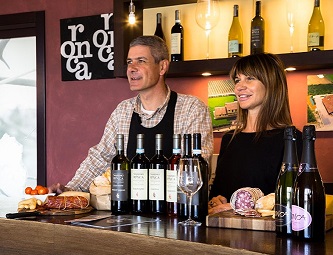 Massimo Ronca left his job at a bank to dedicate himself to his family's estate in Sommacampagna where the core business is Custoza along with Bardolino and Chiaretto.
Destiny sooner or later comes around and in the case of Massimo Ronca, who worked in a bank, destiny took its time but manifested itself when he returned from Milan (where he had moved to for work) to his native Sommacampagna.
It was here that his grandfather Ulderico founded founded a small estate in 1976 and which neither Massimo's father Walter nor sister Cristina wanted to see abandoned. Massimo took a leave of absence to help get the estate back up and running but then found his calling and quit his job at the bank to dedicate himself to the land and the vineyards. In 2006, he made another life choice and rather than sell his grapes to the local cooperatives he built a brand new winery to make and bottle his own wine.
Over the past ten years he has continued his adventure in wine, together with his wife Elena (a lawyer from Verona) and his next step is to have his wine certified organic, which should take place in 2018.
The wines produced are those typical for the area, above all Custoza as well as Bardolino and Chiaretto. They are made with grapes from a 20-hectare vineyard on the south side of Lake Garda where the clay and pebbly soil is mostly calcareous.
Ronca
Owner : Massimo Ronca
Val di Sona, 7
37066 Sommacampagna (VR)
marketing@cantinaronca.it - info@cantinaronca.it
www.cantinaronca.it (site under contruction)
Tel. +39 045 8961641
Related Products