It's time for Ribolla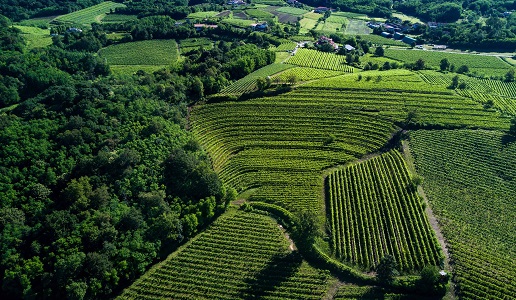 Ribolla Gialla is a great classic of Friuli, offering well-structured white wines suitable for many summer dishes, including white meats.
Ribolla Gialla is one of the oldest native vines of Friuli, where it thrives on the breezy hills of the Collio Goriziano and Colli Orientali areas. It is almost certainly the ancient Rebula from the Greek island of Kefalonia, which the Venetians spread to Dalmatia. In the 12th century, when Friuli was an important supplier of wines to the Venetian Republic, this variety already enjoyed great popularity under the name Rabiola del Collio.
It is the basis of
saline and floral whites with good structure,
interesting particularly in the Collio area. In recent decades it has also been very popular in Slovenia, particularly in the Brda area, which corresponds to the part of Collio that remained beyond the Italian borders after World War I.
We have chosen two, among the many possible expressions. That of Borgo Conventi, which is a Collio doc, and the simpler, more drinkable one of Puiatti.
Borgo Conventi is a historic winery in Isoletta Collio, in Farra d'Isonzo, which was founded by Gianni Vescovo, in 2001 it was bought by Luigi Folonari, then owner of Ruffino, and in 2019 it was taken over by the Moretti Polegato family of Villa Sandi. We are therefore talking about a winery undergoing a relaunch, and the wines already show great promise. After all, vineyards and winery are the same ones that made it great and famous decades ago.
Puiatti is now owned by Angelini Wines and Estates (formerly Bertani Domains), but the historic founder was Vittorio Puiatti, a charismatic winemaker and producer with a gigantic appearance and infinite talent. His dictates remain at the winery, varietal wines and no wood, but an international spirit has been added to the original know-how.
Collio Ribolla Gialla 2020 Borgo Conventi
90/100 - € 12,50
100% Ribolla Gialla grapes. Stainless steel only. Yellow color with golden hues. Aromas of flowers, then yellow fruits and lively citrusy notes. Tense taste, neat and bittering finish. Average body, good persistence in the finish.
Venezia Giulia Ribolla Gialla 2020 Puiatti
91/100 - € 13,00
100% Ribolla Gialla grapes. Stainless steel for 5 months. Light straw yellow color. Fragrant and fruity aromas, clear and varietal notes of yellow citrus and wildflowers. Tense and delicate taste, fresh, agile and delicious drinkability.


Related Products
Product
Producer
Date of publication
Author
Read
Ribolla Gialla 2020
Collio
Borgo Conventi
06/14/22
Sissi Baratella
100% Ribolla Gialla grapes. Stainless steel only. Yellow color with golden hues. Aromas of flowers, then yellow fruits and lively citrusy notes. Tense taste, neat and bittering finish. Average body,...
Leggi tutto
Borgo Conventi

04/17/18
Redazione Grafica

Ribolla Gialla 2020
_
Cantina Puiatti
06/14/22
Daniele Cernilli
100% Ribolla Gialla grapes. Stainless steel for 5 months. Light straw yellow color. Fragrant and fruity aromas, clear and varietal notes of yellow citrus and wildflowers. Tense and delicate taste,...
Leggi tutto
Cantina Puiatti

10/12/15
Redazione