Barbera from Asti and from Oltrepò comparison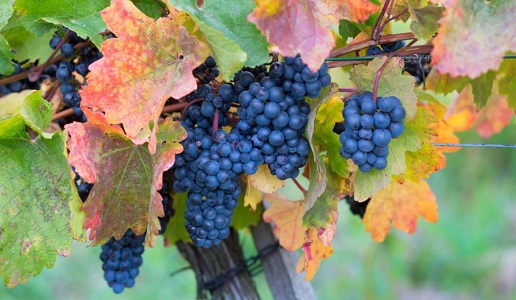 Varietal widely spread not only in Piedmont, but also in Lombardy, barbera offers all its drinkability and fragrance in the two wines we are presenting: Barbera d'Asti Superiore La Luna e i Falò 2017 Vite Colte and OP Barbera Dodicidodici 2016 Castello di Cigognola.
Varietal originally from Monferrato, Barbera is widely spread throughout Piedmont and Lombardy. About half of Piedmont's red wine is derived from this grape variety, vinified both alone (in purity) and with other grapes (in blends). The best results are obtained within the classic denominations, and among all of them stands out for its quality Barbera d'Asti, today a DOCG. In Lombardy it is a widely cultivated variety, while in Oltrepò Pavese it gives life to a separate DOC.
Rich in acidity and very fragrant, it generally gives a deep ruby red wine, with intense, vinous and fruity aromas. In the best areas, and from vineyards planted according to precise quality criteria, a wine is obtained which is very rich in body and structure, also suitable for aging.
We are going to introduce you two of them, one from Piedmont and one from Lombardy, which well correspond to the idea of a quality wine but easy to drink.
For years Terre da Vino cooperative has been a reference point for the production of Langa and Asti wines. Under the direction of Piero Quadrumolo, a great helmsman and a man of profound viticultural culture, it has offered good, if not excellent, products at reasonable prices. It has now split into two. Terre da Vino has remained for the basic production, while with the experience of the best vine-growers and winemakers, Vite Colte was born, with the name dedicated to all of them. Because Vite Colte are just the ones who spent working in their vineyards and then bringing in the cooperative winery the result of their cultivations and cultures. And it is not just a play on words.
Moving to Lombardy, and precisely in Oltrepò Pavese, we find Castello di Cigognola. After Gian Marco Moratti's death, the reins of the winery were taken by his son Gabriele who continues his father's work. Vineyards are always kept as gardens and the castle stands out from the top of the surrounding countryside. Even the range of wines is about the same as it was in the past, with Per Papà, a pure Nebbiolo that Gian Marco wanted to dedicate to the memory of his father Angelo, the president of the Grande Inter in the sixties, then Barbera La Maga and Metodo Classico 'More sparkling wines, among the best ones of the whole panorama of bubbles of Oltrepò. For a more simple consumption, we recommend the Barbera dell'Oltrepò Dodicidodici, which we are recommending today.

Barbera d'Asti Superiore La Luna e i Falò 2017 Vite Colte
91/100 - € 13
Da uve barbera. Un anno in barrique. Rubino violaceo intenso. Molto fruttato e speziato al naso, dove si rincorrono sentori vanigliati e di amarena molto nitidi. Sapore caldo e teso, di ottimo corpo, con tannini accennati e finale di buona lunghezza.

OP Barbera Dodicidodici 2016 Castello di Cigognola
91/100 - € 10
100% Barbera grapes. Matures 1 year in barriques. Intense violet ruby red color. Very fruity and spicy aromas of vanilla and clear notes of black cherries. Warm and tense taste, great body, delicate tannins and good length in the finish.

Related Products
Product
Producer
Date of publication
Author
Read
La Luna e i Falò 2017
Barbera d'Asti Superiore
Vite Colte
04/07/21
Daniele Cernilli
100% Barbera grapes. Matures 1 year in barriques. Intense violet ruby red color. Very fruity and spicy aromas of vanilla and clear notes of black cherries. Warm and tense taste, great body, delicate...
Leggi tutto
Dodicidodici 2016
Oltrepò Pavese
Castello di Cigognola
04/07/21
Daniele Cernilli
100% Barbera grapes. Matures 1 year in big barrels and tonneaux. Dark ruby red color. Varietal aromas, typical notes of black cherries, violets, then hints of vanilla. Neat taste, savory, nicely...
Leggi tutto
Vite Colte

06/20/14
Redazione

Castello di Cigognola

05/11/15
Redazione
The property used to belong the Brichetto family of Genoa and it was run by the grandfather of Letizia Moratti, née Brichetto. It was later sold and then in 2000 Gian Marco Moratti, who had...
Leggi tutto