Time for white wines. From where? Alto Adige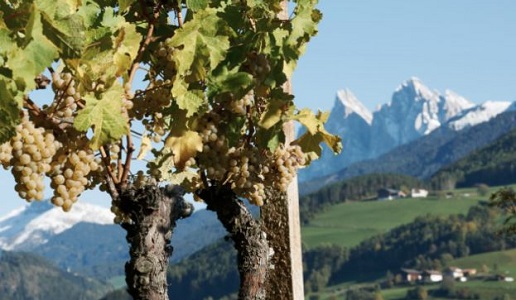 Alto Adige is widely considered as the homeland of white wines, although excellent red wines can also be found here. We chose three of them from different locations and grapes.
Let's start from the winery which is located in the north, to be exact in Chiusa, between Bolzano and Bressanone, along the valley of Isarco river. In the last years Cantina Valle Isarco has been able to take advantage, with great skill, of the interest and success of the white wines of its valley, in particular Sylvaner and Veltliner. The wines of the Aristos line represent the best of the winery's production, however we will never get tired of suggesting the products of the so called "classic" line which have a truly commendable quality/price ratio. We have chosen Sylvaner Aristos.
Going south and passing by Bolzano, we are in Cornaiano, where there is another excellent winery, Colterenzio or Schreckbichl. It represents a real monument to the history of Alto Adige and national viticulture, as proved by the Sauvignon and Cabernet Sauvignon of the Lafóa line, universally considered among the top Italian wines. New cellar and new wines have given impulse to the whole range which is settled at very high standards both for technique and for territorial expression. We focused on the Pinot Bianco (Weissburgunder) Berg.
Not many kilometers, we arrived in Caldaro. Here, the young Manincor winery (founded in 1996), owned by Count Goëss-Enzenberg and managed biodynamically by the talented winemaker Helmut Zozin, in just a few years has gone from strength to strength and has become firmly established in the elite of Alto Adige production. This has come about thanks to a style made up of chiaroscuro rather than bright colors; in short, elegance and finesse are the credo of this winery. We offer Réserve della Contessa, a blend of classic South Tyrolean grapes.
All wines have the Alto Adige (Südtirol) appellation, the first and the third accompanied by the subzones Valle Isarco and Terlano respectively.
Alto Adige Valle Isarco Sylvaner Aristos 2019 Cantina Valle Isarco
93/100 - € 14,00
100% Sylvaner grapes. Half matures in acacia barrels and half in stainless steel for 6 months.
Straw yellow color. Clear aromas of alfalfa, yellow citrus and hints of flint. Good body, great acidity and agile and deep progression.
Alto Adige Pinot Bianco Berg 2018 Colterenzio/Schreckbichl
92/100 - € 15,00
100% Pinot Bianco grapes. Matures 10 months in barrels.
Lively greenish yellow color. Clear aromas of alfalfa, fresh almond and white pepper. Fresh, agile and medium body but good tension and persistent finish.
Alto Adige Terlano Réserve della Contessa 2019 Manincor
93/100 - € 15,00
Blend of 60% Pinot Bianco, 30% Chardonnay, 10% Sauvignon Blanc grapes. Matures in barrels for 6 months.
Light straw yellow color. Wide aromas of fresh almond, white plums, spices and delicate hints of exotic fruits. Austere taste, elegant, tense and juicy. Savory and sharp finish.

Related Products
Product
Producer
Date of publication
Author
Read
Sylvaner Aristos 2019
Alto Adige
Cantina Valle Isarco
06/15/21
Dario Cappelloni
100% Sylvaner grapes. Half matures in acacia barrels and half in stainless steel for 6 months. Straw yellow color. Clear aromas of alfalfa, yellow citrus and hints of flint. Good body, great...
Leggi tutto
Cantina Valle Isarco

03/30/12
Redazione
In recent years, this winery, has with great ability been able to take advantage of the growing success and interest for white wines from the Valle Isarco. Its best wines are in the Aristos line but...
Leggi tutto
Pinot Bianco Berg 2018
Alto Adige
Cantina Colterenzio / Schreckbichl
06/15/21
Dario Cappelloni
100% Pinot Bianco grapes. Matures 10 months in barrels. Lively greenish yellow color. Clear aromas of alfalfa, fresh almond and white pepper. Fresh, agile and medium body but good tension...
Leggi tutto
Cantina Colterenzio / Schreckbichl

06/25/13
Redazione
Schreckbichl has become a monument in the winemaking history of Alto Adige and Italy, as demonstrated by the Sauvignon and Cabernet Sauvignon of the Lafoa line, which are universally recognized as...
Leggi tutto
Terlano Réserve della Contessa 2019
Alto Adige
Manincor
06/15/21
Dario Cappelloni
Blend of 60% Pinot Bianco, 30% Chardonnay, 10% Sauvignon Blanc grapes. Matures in barrels for 6 months. Light straw yellow color. Wide aromas of fresh almond, white plums, spices...
Leggi tutto
Manincor

07/13/13
Redazione
This young (1996) Caldaro estate belongs to Count Goëss-Enzenberg and is managed and run according to biodynamic methods by the talented enologist Helmut Zozin who wasted no time in placing it...
Leggi tutto