Is a blend of multiple grapes or a single variety better?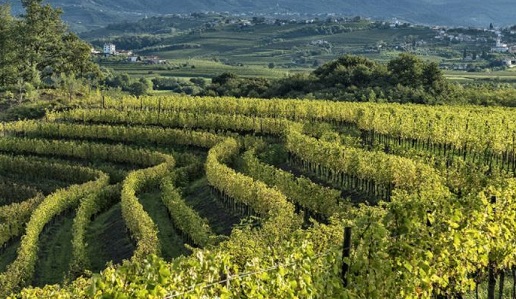 The question actually does not make sense, there are excellent wines in both categories, such as these two Collio whites, each one with its own characteristics of pleasantness and convenience.
We are talking about Collio Pinot Gris by Conti Formentini and Collio Bianco Just Molamatta by Marco Felluga, the first one made of 100% Pinot Gris grapes, the second one a blend of the most classic Friuli's grapes. The reliability of the two wineries is well known, so the choice is yours.
The historical winery of Conti Formentini since many years has been acquired by Gruppo Italiano Vini, which gave it an important base, made of the production of the winemakers once associated to Steverjan cooperative winery in San Floriano. Today it offers well made wines with an excellent quality/price ratio.
Marco Felluga's winery, which happily passed the 60th anniversary of its foundation some years ago, is undoubtedly another reference name for quality wine from Friuli. This is his historical winery, established long before the making of Russiz Superiore, which gave him international fame. From here come out reliable products, well made, with reasonable prices, with some peaks of absolute quality.
Collio Pinot Grigio 2019 Conti Formentini
92/100 - € 11,00
100% Pinot Grigio grapes. Stainless steel for 5 months.
Light copper straw yellow color. Very typical, fruity, neat and classic aromas of fragrant and varietal summer pear. Savory taste, powerful, warm, pleasant drinkability and good persistence.

Collio Bianco Just Molamatta 2018 Marco Felluga
90/100 - € 13,00
Blend of 40% Pinot Bianco, 40% Friulano, 20% Ribolla Gialla grapes. Stainless steel on the yeasts for 6 months.
Bright straw yellow color. Fruity aromas of white peach, wildflowers, hints of flint. It's the Molamatta version without wood. More simple but more tense, savory and agile. Very pleasant.

Related Products