Vulture: not only Aglianico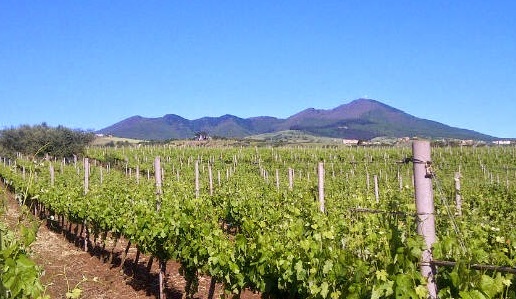 In order to disprove the idea everyone has about Vulture as a land exclusively dedicated to Aglianico, therefore to red wines, let's introduce two white wines before a classic Aglianico del Vulture.
The cold climate and the volcanic soils of Vulture mount, which is an ancient volcano, give wines salinity and freshness which are well matched to white grapes as well. In this area are found both grapes of Greek origin, such as Moscato or Malvasia, and northern grapes, such as Gewürztraminer and Müller Thurgau. There are also grapes from the "neighbors" such as Fiano, Falanghina and Greco bianco and even international classics such as Chardonnay and Sauvignon. Of course, they are cultivated in lesser quantity than the "landlord" Aglianico, but they offer unexpected and pleasing wines.
Let's start with the white wine of Cantine del Notaio, a very good and well known winery, whose wines are easy to remember as they all have the name of a notary's practice, in memory of the activity of the ancestors of the current owner. The winery is of an extraordinary beauty. Dug in the volcanic tuff, it seems an underground cathedral full of casks and of sacred and symbolic images. Gerardo Giuratrabocchetti puts soul and passion in his work and his wines are always extraordinary and full of personality.
Preliminare 2019 Cantine del Notaio
90/100 - € 12,00
Blend of Moscato, Malvasia, Chardonnay and Aglianico vinified "in white". Stainless steel for 4 months on the yeasts. Classic straw yellow color. Fresh and fragrant aromas with notes of orange flowers, whitehorn and fruity notes of mango, medlar and apricot. Wide taste, savory and well sustained by acidity. Savory finish.
For the Vulture area, Re Manfredi is a big winery, with more than one hundred hectares of vineyards. In reality it is a medium sized winery which belongs to Gruppo Italiano Vini, a large constellation of wineries which make up the largest winery of Italy. Besides Aglianico del Vulture of excellent level, such as the top company Re Manfredi, this pleasing white wine is also produced.
Basilicata Bianco 2019 Re Manfredi
90/100 - € 14,00
Equal blend of Gewürztraminer and Müller Thurgau grapes. Matures mostly in big and small barrels and stainless steel with small part in barriques and amphorae. Bright straw yellow color. Aromas of pineapple, yellow peach, aromatic herbs and hints of eucalyptus. Savory taste, fresh. Evident citrusy notes in the finish.
Let's conclude with a red wine, an easy and medium bodied Aglianico del Vulture. The historic Paternoster winery in Barile has changed ownership, having been bought by Tommasi, a well-known winery from Verona which has many hectares of vineyards all over Italy, so after Casisano Colombaio in Montalcino here is an excellent purchase in the heart of Vulture. What shows Tommasi's farsightedness is that the technical direction has remained in the hands of Vito Paternoster. A nice sigh of relief for the nostalgic lovers of the winery.
Aglianico del Vulture Synthesi 2018 Paternoster
89/100 - € 11,00
100% Aglianico grapes. Matures in big oak Slavonian barrels 80% and in French barriques 20%. Intense and bright ruby red color. Typical aromas of autumn underbrush, alfalfa, fresh dark floral notes. Average body and good progression with youthful tannins but not overwhelming. Good and intense
finish.

Related Products
Product
Producer
Date of publication
Author
Read
Preliminare 2019

Cantine del Notaio
04/20/21
Riccardo Viscardi
Blend of Moscato, Malvasia and Chardonnay. Stainless steel for 4 months on the yeasts. Classic straw yellow color. Fresh and fragrant aromas with notes of orange flowers, whitehorn and fruity...
Leggi tutto
Cantine del Notaio

12/30/15
Redazione

Il Manfredi Bianco 2019
Basilicata
Re Manfredi - Terre degli Svevi
04/20/21
Antonella Amodio
Equal blend of Gewürztraminer and Müller Thurgau grapes. Matures mostly in big and small barrels and stainless steel with small part in barriques and amphorae. Bright straw yellow...
Leggi tutto
Re Manfredi - Terre degli Svevi

03/10/15
Redazione

Synthesi 2018
Aglianico del Vulture
Paternoster
04/20/21
Riccardo Viscardi
100% Aglianico grapes. Matures in big oak Slavonian barrels 80% and in French barriques 20%. Intense and bright ruby red color. Typical aromas of autumn underbrush, alfalfa, fresh dark floral notes....
Leggi tutto
Paternoster

01/28/15
Redazione