Montepulciano d'Abruzzo & co.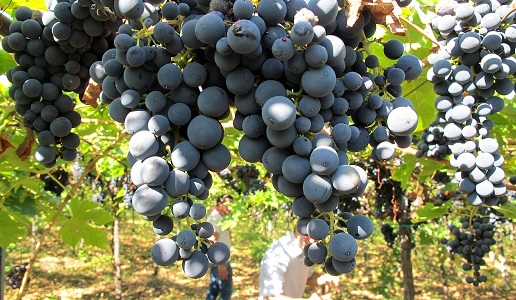 Montepulciano is an extremely common grape in the center of Italy and very loved for those intense and warm wines which make one think about an embrace. Our choice was Torre dei Beati, La Valentina and Torre Zambra in Abruzzo and Velenosi in Piceno.
After Sangiovese, Montepulciano is one of the most popular native varieties. Just think that it is "recommended" by the Ministry of Agricultural Resources in 20 Italian provinces, especially on the Adriatic side, from Marche down to Puglia. In Abruzzo it has a privileged position: it is in fact the most widespread grape of the region, including both the red and the rosé version, Cerasuolo. A little further north, in the Piceno area, it is the protagonist of the red DOC in blend with Sangiovese. When it is cultivated according to criteria of low productivity, it gives an intense and warm wine, dry, smooth, with fruity and underbrush aromas; it also has excellent aging possibilities.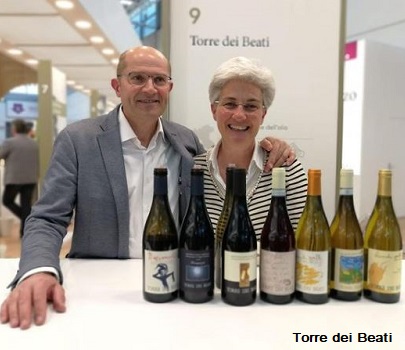 Our choice this week is about three Montepulciano d'Abruzzo, as usual of excellent quality and extremely reasonable price, where the grape is pure (the disciplinary allows 15% of other red grapes allowed) and about a Rosso Piceno in which the percentage of Montepulciano grape is 70%.
And let's start with Torre dei Beati, in Loreto Aprutino (Pescara). This is a precious address of Adriana and Fausto Albanesi. They are passionate and very good winemakers, the kind who make us make peace with a world of wine that lately has become a bit too glamorous. The two of them, however, are really anti-heroes, beautiful and kind people, measured and with the humility of good people. They are surprised if you say their wines are fantastic, which is very true. They are the result of true passion and hard work, done for consistency and for the love of what they do.
Let's move on to La Valentina, a modern and well managed winery by Sabatino Di Properzio with his brothers Andrea and Roberto. Vineyards are located on the hills overlooking the lower part of Pescara valley, in the municipalities of Spoltore, Scafa and San Valentino. Modern style is more and more measured, to the advantage of drinkability, despite having a very respectful extractive foundation.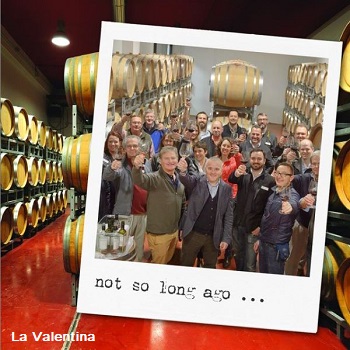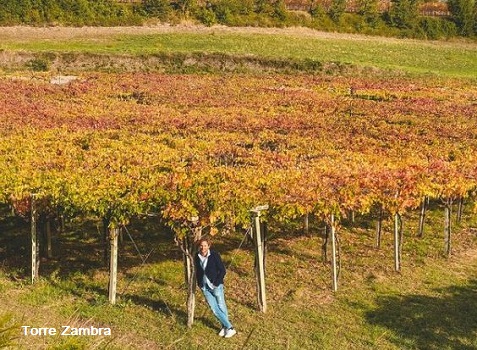 The history of Torre Zambra winery begins in 1910 with the purchase of a piece of land owned by the Zambra family, to whom is attributed the still present watch tower which gives the name to the winery. There, in 1961, Laurentino De Cerchio founded the winery, whose vineyards are located on the hills of Villamagna (Chieti), immersed in a unique microclimate which benefits from the influences of both sea and mountains, at an altitude between 150 and 300 meters (500 and 1,300 feet) and on calcareous-clayey soils, rich in humus and nutrients.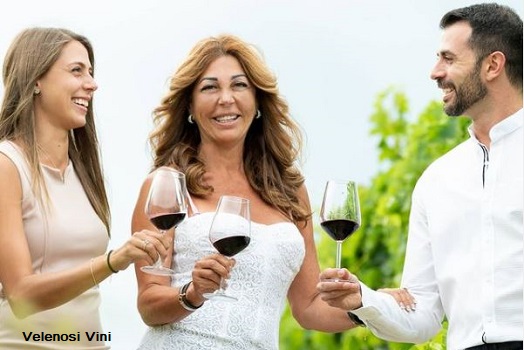 Let's close that overview with a leap beyond the border and land in Ascoli. If today Ascolano's wines have an international consideration, a lot is due to the effective work of Angela Velenosi, who travels the world to sell her wines, but who inevitably works as an ambassador for the whole area. In this way talking about Rosso Piceno or Offida Docg no longer means mentioning unknown names, not even in the Far East trade. In recent years, Velenosi's activity has also extended to Abruzzo with the purchase of 12 hectares of vineyards at Controguerra in the Teramo Hills, with excellent results. A sign that Montepulciano, for Angela, is a grape to be valued with all efforts.
Montepulciano d'Abruzzo 2018 Torre dei Beati
96/100 - € 12,00
100% Montepulciano grapes. Matures 15 months in barrels. Slightly delicate purple ruby red color. Delicate and elegant aromas, intense fruity notes of blood orange, then sweet flowers and cocoa. Agile and silky taste, do to an almost minty refreshing acidity that leads to a clean and elegant finish.

Montepulciano d'Abruzzo La Valentina 2018 La Valentina
92/100 - € 12,00
100% Montepulciano grapes. Stainless steel only and 20% in barriques and barrels for 18 months. Purple ruby red color. Intense aromas of black cherry jam and plums, then violets, blood orange, spices and an elegant note of laurel and myrtle. Balanced and pleasant sip, evident fresh acidity, agile body and fruity finish.

Montepulciano d'Abruzzo Madia 2019 Torre Zambra
90/100 - € 8,00
100% Montepulciano grapes. Stainless steel for 12 months. Purple red color. Intense floral aromas, then plums and red and black fruits jam; then sweet spicy notes and hints of pastry. Pleasant sip, good body, tense and savory with persistent fruity and spicy notes in the finish.
Rosso Piceno Superiore Solestà 2018 Velenosi
93/100 - € 13,00
Blend of 70% Montepulciano and 30% Sangiovese grapes. Matures 6 months in various size barrels. Intense and lively garnet ruby red color. Enveloping and ethereal aromas, very fruity, notes of black cherries, morello cherries and spicy hints. Solid and savory taste, warm, neat and pleasant drinkability.

Related Products