Bollicine di Prosecco Extra Dry by Serafini & Vidotto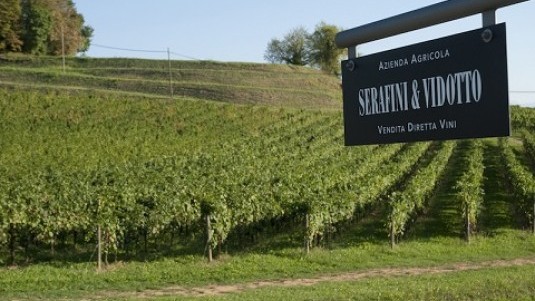 Serafini & Vidotto, winery known mostly for red wines, produces the typical bubbly wine of its region, the Prosecco: the Asolo Superiore like this Bollicine di Prosecco 2015. 
Francesco Serafini and Antonello Vidotto are the driving forces behind this Nervesa della Battaglia estate. It is situated in an historic place surrounded by the ruins of the abbey that had hosted Giovanni Della Casa when he wrote his Galateo: The Rules of Polite Behavior between 1551 and 1555. Here the two enologist-farmers produce some excellent reds but they also produce the typical bubbly wines of their region: the Prosecco, here Docg, at a great price. 
Serafini & Vidotto 
Owner : Francesco Serafini e Antonello Vidotto
Via Luigi Carrer, 8
31949 Nervesa Della Battaglia (TV)
Tel. +39 0422 773281
serafinievidotto@serafinievidotto.com
www.serafinievidotto.it
Facebook : serafinividotto
Year of foundation:  1986
Total bottles produced : 200.000
Hectares of vineyard : 25
Related Products