Easy to drink Tuscany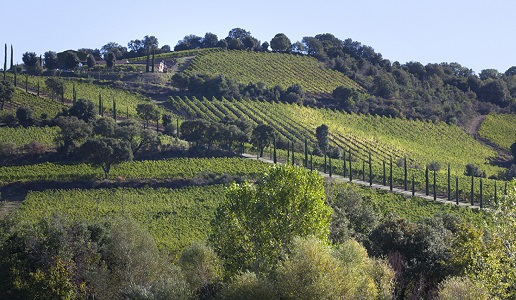 Tuscany can offer a variety of wines capable of satisfying every taste. Important wines, such as Brunello di Montalcino, Bolgheri Superiore, Chianti Classico Gran Selezioni, Nobile di Montepulciano or the heterogeneous category of Supertuscans. But also everyday wines, those wines of delicious drinkability which are joyful and can be tasted without any problem. Among the latter, which are the subject of this column, we certainly include Chianti and Morellino di Scansano of the current vintage.
Therefore we chose an excellent Pisan Chianti (from Badia di Morrona) and two Morellino (Fattoria di Magliano and Col di Bacche), both from the area of Magliano.
Badia di Morrona is an estate of remarkable size and beauty (about 550 hectares in total, of which about one hundred are planted with vines and about forty with olive trees), located between Pisa and Volterra, with inside the ancient complex, first Benedictine and then Camaldolese. The guide Filippo Gaslini Alberti that, compared to the past, has worked on the better definition of the fruit in the wines, thanks to a greater attention in the vineyard and the completion of the cellar.
Going down to the coast, a visit to Uccellina natural park, in Maremma, is a wonderful experience: a natural environment which speaks about Mediterranean colors and scents. Right at the edge of the park, at about 15 km from the sea, there is the winery of Alberto Carnasciali and his wife Franca Buzzegoli, Col di Bacche, 18 hectares in the hills. On about 13 hectares have been planted the typical vines of the area, which is the one of the Docg Morellino di Scansano, therefore sangiovese, as well as a small quantity of vermentino for the realization of a fresh and drinkable white wine. There are also merlot and cabernet sauvignon for the classic Igt.
From Cupi we go towards Magliano to stop at Sterpeti, where we find Fattoria di Magliano. When entrepreneur Agostino Lenci from Lucca arrived in Magliano in Tuscany, in Maremma, towards the end of the nineties, he decided he wanted to produce great wines and he set the whole winery on the concepts of a quality wine making. Many years later, the helm is now in the hands of his son, we can say the goal has been achieved.
Chianti I Sodi del Paretaio 2019 Badia di Morrona
90/100 - € 10,00
Blend of 85% Sangiovese and 15% of Cabernet Sauvignon, Merlot and Syrah grapes. Aged in cement and stainless steel. Lively ruby red color. Pleasantly fruity nose of cherry and field blossoms. Briny palate, tense and supple, well-balanced by the acidity and of a great drinkability.

Morellino di Scansano Heba 2018 Fattoria di Magliano
90/100 - € 12,00
100% Sangiovese. Aged in stainless steel and large casks for 10 months. Intense and bright ruby red color. Fruity and straightforward notes of blood orange and subtle sweet spices. Agile palate, tense, simple and deliciously drinkable. Very pleasant.

Morellino di Scansano 2019 Col di Bacche
88/100 - € 12,00
100% Sangiovese. Aged in oak barrels. Deep ruby red color. Nose of leather and red fruit. Elegant palate offering a good depth and a youthful yet balanced tannin. Elegant and medium length finish.

Related Products
Product
Producer
Date of publication
Author
Read
I Sodi del Paretaio 2019
Chianti
Badia di Morrona
05/04/21
Livia Belardelli
Blend of 85% Sangiovese and 15% of Cabernet Sauvignon, Merlot and Syrah grapes. Aged in cement and stainless steel. Lively ruby red color. Pleasantly fruity nose of cherry and field blossoms. Briny...
Leggi tutto
Badia di Morrona

07/01/14
Redazione
Badia di Morrona is an important, large and beautifull estate with its some 550 hectares of land including over 100 of vineyards and around 40 of olive groves. It is situated between Pisa...
Leggi tutto
Heba 2018
Morellino di Scansano
Fattoria di Magliano
05/04/21
Daniele Cernilli
100% Sangiovese. Aged in stainless steel and large casks for 10 months. Intense and bright ruby red color. Fruity and straightforward notes of blood orange and subtle sweet spices....
Leggi tutto
Fattoria di Magliano

11/05/14
Redazione
Quando l'imprenditore lucchese Agostino Lenci è approdato a Magliano in Toscana, in Maremma, verso la fine degli anni Novanta, ha deciso che voleva produrre grandi vini e ha...
Leggi tutto
Morellino di Scansano 2019
Morellino di Scansano
Col di Bacche
05/04/21
Riccardo Viscardi

100% Sangiovese. Aged in oak barrels. Deep ruby red color. Nose of leather and red fruit. Elegant palate offering a good depth and a youthful yet balanced tannin. Elegant and medium length finish.

Col di Bacche

05/04/21
Redazione
Visiting the Uccellina Nature Park in Maremma is a wonderful experience, a habitat full of Mediterranean colors and aromas. On the outskirts of the park, some 15km from the sea, is the 18-hectare...
Leggi tutto