Yellow Belly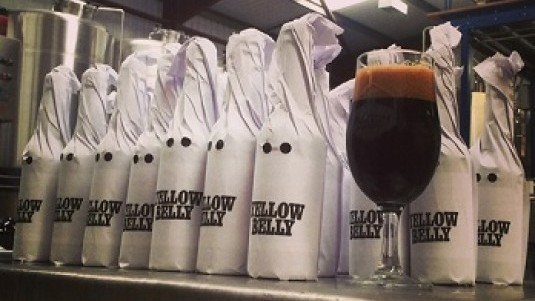 Yellow Belly is an expression that in English means coward and thus an unusual name for a beer. But then this is not your usual beer being an excellent, if not exemplary, Imperial Stout. Also unusual is the bottle which is wrapped in white paper with two eye-shaped holes while on the 'belly' of the 33-cl bottle is written Yellow Belly. At first glance it could appear to be a ghost but at closer examination it is more like the bottle it is wearing the guise of the Ku Klux Klan. And this was exactly the intention of Henok Fentie, the owner of the Omnipollo brew pub in Stockholm and creator of Yellow Belly in collaboration with Britain's Buxton Brewery.
It all began in 2014 on the sidelines of Rainbow Collaboration, a beer festival where 14 brewers must work together to create seven beers, the same number as the colors in the rainbow. Henok Fentie was one of these 14, a brilliant brewer of unquestionable professionalism who is also politically active and a person of color. Two years ago, his main concern was the advancement in Europe of xenophobic, right-wing political movements and the cowardice of those who would not admit they supported and voted for them. To draw attention to the cowardice of those who hide underneath a white sheet with eyeholes in them, he decided to dress a beer bottle that way. Thanks to the help of Karl Grandin, Henok's friend and a graphic artist, they came up with the idea of wrapping the bottle in white paper with two eyeholes and yellow belly written on it. British partner Buxton Brewery liked the idea a lot and soon the brew became known the world over, not only for its political message but also and above all for the quality of the exceptional product.
Being an Imperial Stout, it has a pronounced structure, alcoholic content, color and density with a compact head and much more. Imperial Stout was the favorite beer of Peter the Great, the Tsar of all the Russias, back in the first years of the 18th century when beer was not pasteurized. The brews of the time had particular organoleptic characteristics and problems related to logistics that the recent revolution in craft brewing has brought back with beers rich in variety, tradition and novelty. Imperial Stout today is quite different than what arrived at the Tsar's Baltic ports and each brewery interprets it in their own way, using the various malts, hops and aromatic ingredients as they see fit. Nevertheless, the connection with the past is evident, above all for the way the way they differ from 'ordinary' stouts and porters, distant cousins who only share a common name.
Despite its good intentions and absolute quality, Yellow Belly has been subject to a lot of criticism in Europe. Some see the packaging idea as a marketing scam pure and simple, others as a way to boost sales for Omnipollo and Buxton Brewery's other products, while still others criticize the beer's high price, some 30 euro a liter. Henok Fentie may be a progressive, a liberal and tolerant by nature but Yellow Belly should be judged for what it is: a great and complex Imperial Stout. It is the product of a collaboration between two great craft brewers, which also has an important political statement that can be shared because, as Martin Luther King said, "to make enemies it is not necessary to declare war, all you need to do is say what you think".
Related Products