Verdi Imperial Stout from Birrificio del Ducato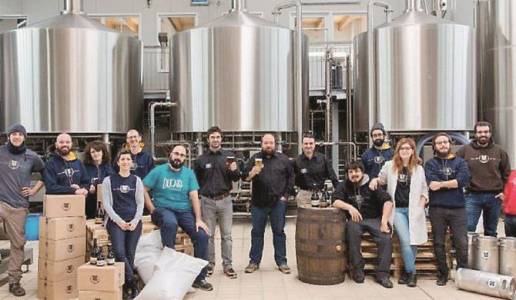 Birrificio del Ducato's path has been one studded with success and their Verdi Imperial Stout is the feather in their cap having won first prize at the European Beer Star event in Nuremburg.
They have come a long way in just a few years and while 11 years is not short period of time in the Italian craft brewing world, the success achieved by Birrificio del Ducato is truly remarkable. So much so, in fact, that at the end of February it was announced that Belgian brewer Duvel Moortgat had acquired a majority share – some 70% - of Birrificio del Ducato after buying a minority one in December 2016.
The Italian brewery was founded in 2007 in Roncole Verdi, a district in the town of Busseto in the province of Parma, by Giovanni Campari, an inspired and creative brewer who holds a degree in food science and technology and had begun as a homebrewer, and Manuel Piccoli, a veteran of working in logistics and a sharp administrator. They met in 2005 at the Unionbirrai brewers' association stand during a trade fair in the province of Parma. They hit it off and came up with the idea of setting up a micro-brewery, which at the time seemed a little crazy. It took two years get the project off the ground and overcome skepticism and often diffidence.
In a short period of time, Giovanni's brews gained a reputation to the point that the following year, 2008, they won three silver medals at the National Beer of the Year contest. More import, however, was the first prize won by their Verdi Imperial Stout at the prestigious European Beer Star contest in Nuremburg, making it the first Italian beer to win an international award. The brew's name is Giovanni's homage to Giuseppe Verdi, who was born in Roncole.
Once success followed another and Ducato was named "Brewery of the Year" two times running, in 2010 and 2011
Production capacity was expanded with the acquisition of another still which allowed them to increase the number of bottles produced and embark on other initiatives including the creation of a pub in London in 2015, Pub Italian Job in Notting Hill, which offers only Italian beers and will be followed by others, always in London.
A path studded by success after success and with no end in sight. The entry of the Belgians as majority partners ensures further expansion abroad without betraying Birrificio del Ducato's philosophy and productive philosophy.
Related Products