The symbolic meaning of XI.I Samhain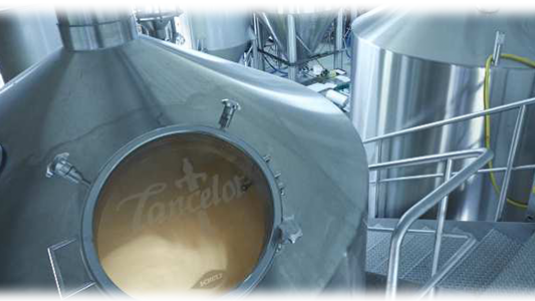 Samhain, the Celtic New Year known today as Halloween, was a very special day when temporal power was suspended and at night the worlds of the dead and the living met and intermingled. Samhain literally translates 'end of summer' and it in fact coincides with the end of the harvest season and the beginning of the "darker half" of the year.
In the world beer, Samhain is celebrated by Brasserie Lancelot, a small Breton craft brewery in Roc-Saint-André set up in a former gold and tin mine. It was established in 1989 by Bernard Lancelot, a nuclear engineer who first engaged in beekeeping and later brewing beer. This brewery has always distinguished itself for its line of beers that are connected to the history and culture of Brittany, to that pure Celtic legacy that still today thrives in this northwest corner of France. The brewery produces no more than 30,000 hectoliters of beer a year, all rigorously craft, unfiltered and with secondary fermentation in the bottle. However, the feather in its cap is XI.X Samhain, a barley wine with a strong symbolic meaning.
XI.I Samhain, the Roman numerals indicating the alcoholic content, is brewed only once a year, on October 31, and is then made available only after the Winter Solstice. The symbolic meanings behind this beer are many: not only is it only brewed on the most important day of the Celtic calendar, the one that marks the end of the time of light and start of the darker half, but it is only available to drink when the sun reaches its lowest elliptical point, the shortest day of the year. Thus the dark and impenetrable soul of XI.I Samhain recalls that wheel of time which the Celts believe governs men, harvests, actions and thoughts. It is a full-bodied drop that can warms hearts and minds during the long winter until the feast of Beltaine, which we will deal with towards the month of May. For now happy Samhain to all.
Related Products