Norma of San Michele Brewery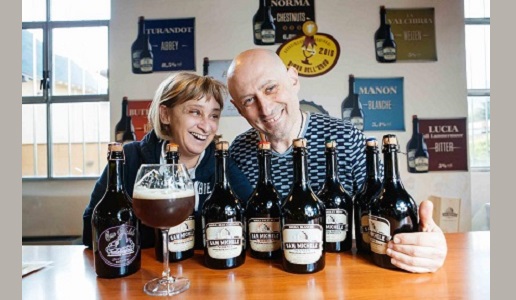 Norma is the most awarded beer of San Michele Brewery, which currently produces more than 500,000 bottles a year. Each beer is named after an opera, because brewing beer "is an Opera of Passion."
The San Michele Brewery is located at the beginning of the Susa Valley, in an evocative and unspoiled natural environment surrounded by the green springs of Mount Pirchiriano. Bruno Gentile, entrepreneurial brewer and creator of the production lines and recipes to try and make, militated for many years among the ranks of IBMmers, where he juggled computers and computer procedures. During a trip to Belgium, he discovers a passion for beer. He returns home, opens a small brewery with a friend and after three months wins the "beer of the year" award with Norma: it's 2011 and repeats the success in 2012, 2013, 2015 and is third in 2011 with Carmen. In the meantime, he decided to go it alone and moved to Sant'Ambrogio di Torino, right at the foot of the Sacra di San Michele on the road that has been traveled by pilgrims since the early Middle Ages, the via dei romei or francigena to and from France. The installation is located in an old renovated factory, which had housed a cotton mill, a motorcycle factory, a car accessories factory, a great example of industrial architecture, but which was originally owned by brewers. In addition to the brewery, Bruno has also set up a pub where you can taste the house beers with the presentation of food recovered from tradition and trying to find the best pairings between beers and food.

Particular care Bruno takes in the pursuit of eco-sustainability starting with building recovery, using suitable systems to minimize production consumption, research to recycle everything that is not used, starting with the brewers' spent grains and reclaimed water. It is the company's strategy to research with extreme care the sensory qualities of the beers, labels and names that, referring to operas, outline in flavors the theatrical story with equal emotions. Meticulous research of raw materials, the proportions of their use and necessary care in the production process is evident in this context.
Thirteen beers are proposed, all significant according to the outlined strategy. Examples include Aida Fumé, a Rauchbier smoked on beech wood; Tourandot, an Abbey Ale with hints of chocolate; and Semiramis, a warm alcoholic but balanced Barley Wine for couch or for challenging dishes.
St. Michael's Brewery currently produces more than 500,000 bottles a year and exports to many foreign countries, including those where local beers have a long tradition.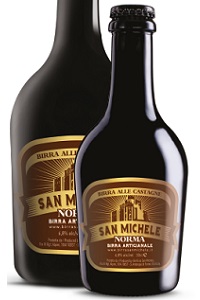 Birra Norma alle castagne
It has abundant foam, medium-fine grain, medium persistent, beige color; liquid is clear amber with red-brown highlights, bouquet aromas of malt, yeast, dried fruit and earthy hops. The flowing drink with a light body that blends in good balance sweet caramel with light hops in harmony with the light vanilla to chestnut aftertaste and restrained fizz demand a second sip to habituate to the various olfactory and taste components and take the start for an increasingly convincing progression until there is no more limit to the drinks.La bottiglia da 0,750l costa sui 10 euro.
Freely excerpted from Cronache di Gusto, the article is by Mauro Ricci.
Translated with www.DeepL.com/Translator (free version)
Related Products