Nera, a Sicilian Stout from 24 Baroni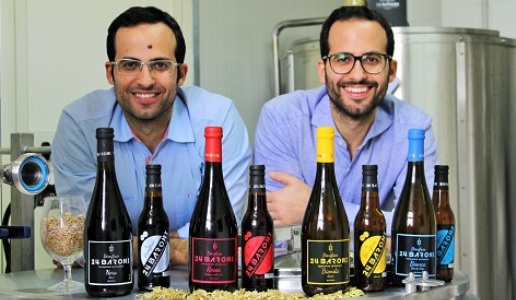 The Cosentino brothers are the owner-operators of the 24 Baroni brewery in Nicosia, in the province of Enna, which produces a top-quality craft beers.
Giacomo and Antonio Cosentino, who both hold degrees in business management, grew up in a family of farmers near Nicosia. Their lovely farm was isolated (perhaps too much so) from the rest of the world and offered a heathy country life experience that included healthy food and proper eating habits. The two brothers started as homebrewers with the intention of producing quality beers but later they began to contemplate turning their hobby into a business. After earning their degrees and doing some internships, above all at prestigious breweries in Piedmont, in 2014 they founded the 24 Baroni brewery.
"What better place to open it than in our small village where we have the purest water from the nearby mountains? The brewery is integrated into the natural landscape of our farm and this is perhaps one of our strong points because being away from the hustle and bustle of city life and the pollution has more than repaid us for any logistical problems," the brothers said.
The brewery's name 24 Baroni refers to an event when the area an important fiefdom ruled by Charles V who gave the title of baron on the spot to 24 farmers because they were the only ones who welcomed the king when he came to visit.
The natural environment the brewery is situated in is what Giacomo and Antonio seek to transmit to their beers that are produced in the healthiest and most spontaneous way possible. And this is what gives the brews their vigor and unmistakable personality.
An example of this is Nera, a top-fermentation Stout with a high alcohol content inspired by Anglo-American brews. This was their fourth creation - after their wheat beer, lager and red ale – in what could be seen as a very traditional sequence but at the same time a positive one given how well each is made. After the original three, all that was lacking was this dark beer.
Originally published by Cronache di Gusto
Related Products