Lisa, a new Golden Ale from Birra del Borgo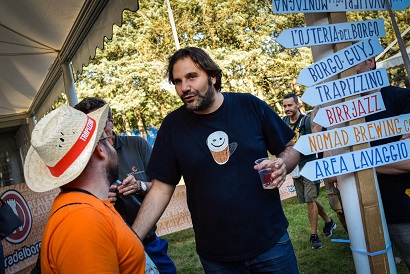 Birra del Borgo brewery and its last creation: the Lisa Golden Ale...in can, tasted at Birra del Borgo Day 2017.
From June 1-4, Borgorose held the annual event showcasing the town's famous brewery with beer tastings and food offered along with music and entertainment for children. Birra del Borgo Day is more than just a celebration or a promotional event, it is an occasion to enhance and foster the development of this rural area of the Lazio region.  Thus before beer and the lovely brewery created by Leonardo d Vincenzo & Co, this is a celebration of this small, mountain town in the upper Salto Valley that is home to a proud people who built it over the centuries with sacrifice and hard work.
Leonardo di Vincenzo could hold this beer festival, with its over 130 brews from around the world, in Rome or Milan but instead stages it in the town where it all began, where his dream became a reality, a liquid one with a more or less yellow or amber color and a nice head.
At a time of unbridled globalization, this represents a strong message that goes beyond the world of beer. It is a message of identity, roots, pride and love for one's land. It is also an invitation to people to move, an occasion to travel and discover a reality where people open their homes with a smile on their face and, let's hope, a glass of beer in their hand.
One of the interesting things we saw at the event was a stage built using cans of Lisa, Birra del Borgo's latest creation that came out towards the end of last winter. The name is an acronym for Light Italian Seasonal Ale and on the label is a portrait of a young girl drawn by the cartoonist and famous Piedmont designer Gianluca Cannizzo. While not the first Italian craft beer available in a can, Lisa is without a doubt the first to be entirely produced and canned in the brewery where the wort was boiled and fermented. This Golden Ale aromatized with coriander, pink peppercorns and orange peel is more than just a summer brew full of pleasing freshness. It is also a new starting point for this brewery in Borgorose, an enjoyable result of an experiment that represents the future of craft brewing.
Birra del Borgo 
Owner : Leonardo di Vincenzo
Via del Colle Rosso snc - Loc. Piana di Spedino
02021 Borgorose (RI)
Tel. +39 06 95222314
info@birradelborgo.it 
www.birradelborgo.it
Facebook: birradelborgo
Related Products