Hempathy, the cannabis aromatized beer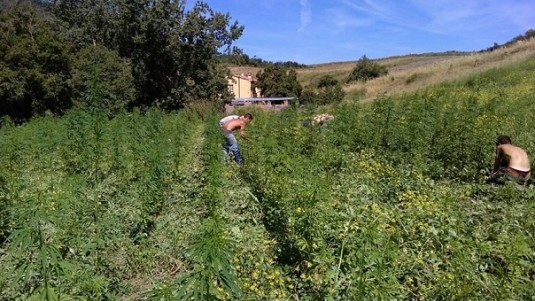 Geo Hempathy is an Italian Hemp Ale that is the result of a collaborative effort between the hemp producers Consorzio M12, the Viareggio breweries La Staffetta and Archi and the master brewer Michele Menchini.
In the first half of the 20th century, Italy was the leading hemp producer in Europe , with over 100,000 hectares planted from Piedmont to Campania. Then in 1961, the United Nations Convention on Narcotic Drugs put cannabis on its list of illicit substances which led to the definitive ban on its cultivation in Italy in 1975. In 1998, it once again became legal to cultivate hemp and today, according to estimates from the Coldiretti farmers' union, cannabis plantation in Italy covers over 1,000 hectares of land and is expected to continue to grow in the future.
The uses for hemp are varied and include brewing. The idea to aromatize the drink of Ceres arose in 2015 when Consorzio M126, the hemp producers' association in Tuscany, the beer cooperative La Stafetta and Archi brewery in Viareggio and the master brewer Michele Menchini decided to work together to produce the first beer in Italy made using inflorescence of cannabis in the wort. The result was Geo Hempathy, an Italian Hemp Ale , a brew with a perfect and rigorous style that is also 'zero kilometers'. It is made following the principles of chemurgy , the branch of chemistry that deals with developing industrial products from organic raw materials and using only renewal energy sources. The project is also designed to add value to natural resources from the area of Volterra, cannabis the first among them, and utilizes power from the geothermal plant of Sasso Pisano.
The return of cannabis production will change the farming sector in Italy and perhaps make it even more profitable, from a legal point of view. This was not out of the blue but rather a return to the past… an example of how traditions die hard.
Related Products