Enkir, the world's most "ancient" beer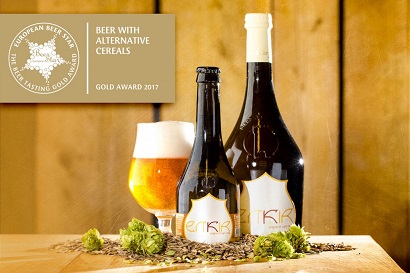 Enkir from the Birra del Borgo brewery is particular in that 55% of the grains used in brewing is "small spelt", Triticum monocuccum, which makes it light yet complex. 
It would appear that the first grain cultivated by man was small spelt, scientifically known as Triticum monococcum, between 10,600 and 9,900Bc. In Italy, this variety is known under its commercial name enkir registered by Mulino Marino of Cossano Belbo, in the province of Cuneo. The name is a reference to Enki, the Sumerian "Lord of the Earth" who created the planet.
Enkir is also the name of a famous beer created by Leonardo Di Vincenzo , the head of the Birra del Borgo brewery which, just over a week ago at the European Beer Star Awards 2017, a prestigious annual beer competition held in Munich, was awarded the Gold Medal in the category of "Best Beer Produced with Alternative Cereals" . The competition, which saw the Borgorose brewery pick up a gold in the past with its ReAle extra in the India Pale Ale category, saw the participation of over 2,150 brews divided into 60 categories and from 46 countries. Enkir, a collaboration between Di Vincenzo and Gabriele Bonci, a famous Roman pizza and bread maker, is brewed with 55% of the cereals Triticum monocuccum , an ingredient that makes this beer truly unique and in a certain way "ancient". Aside from its genetic originality, this special beer also brings with it a social value thanks the use of enkir-brand cereals. And while there is no great nutritional difference between the various types of spelt and the monococcum variant, the protection offered by the trademark represents an incentive for the famers who produce it who not only see greater earnings but cultivate marginal rural areas that would otherwise be abandoned.
Birra del Borgo 
Owner : Leonardo di Vincenzo
Via del Colle Rosso snc - Loc. Piana di Spedino
02021 Borgorose (RI)
Tel. +39 06 95222314 
info@birradelborgo.it 
www.birradelborgo.it
Facebook: birradelborgo
Related Products