Dogma, a pleasant surprise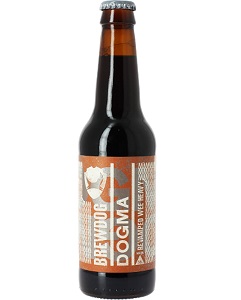 In Scotland, in the district of Aberdeenshire and town of Ellon, a small village of Celtic origin with a population of just over 9,000 people, the Brewdog brewery produces a beer named Dogma, which is not dogmatic in any way. BrewDog is a must for all those who love craft beer. It was founded in 2006 by James Watt and Martin Dickie who began production in Fraserburg. At the end of 2012 they moved the lion's share of production to Ellon, even if the kept the original headquarters open (they also have a brewery in the United States, Canal Winchester in Ohio). While they produce many types of beer, there is a Scottish Ale with a high alcoholic content that is a melting pot of malts, hops and other ingredients that merit recognition by the Guinness Book of Records.
Dogma is a Strong Ale produced with over ten kinds of malt, from Munich to Dark Chocolate with various versions of Crystal and Brown. Among the hops those that stand out are Saaz and First Gold and if that were not enough, during production they add cola nuts and heather and guarana honey. This mixture, which is not very traditional and even less 'dogmatic', has made this Scottish Ale unique in regard to the style it should have. But the philosophy at BrewDog has always been: "amaze to the limit of enchantment". There is no lack of boldness or aromas and the brew is even quite dense, all making Dogma a surprise to discover sip after sip.
Related Products