Climate and beer. Try a Sunnyside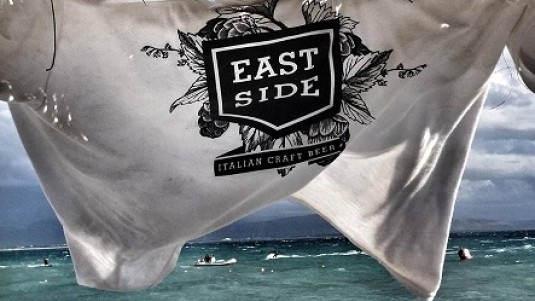 Contrary to what many believe, people drink more water than beer when it gets too hot. But should you prefer a beer, try Sunnyside, a refreshing India Pale Ale from the Eastside brewery in Latina. 
This summer's scorching hot temperatures did not favor drinking beer. Contrary to what many believe, in fact, while 45% of the beer consumed in Italy is during the summer months, when it gets too hot and humid water is the beverage of choice over beer or any other alcoholic drink. This is evidenced by the fact that per capita consumption of mineral water in Italy is almost 210 liters. The fact that beer consumption slumps during extremely hot weather was evidenced in a 2013 article published by the economic daily Il Sole 24 Ore written by Emanuele Sacrci. In it he interviewed the then-head of the AssoBirra brewers association, Alberto Frausin, who said: "Beer consumption is highest when the weather is sunny and dry and temperatures are between 22 and 30°C".
The article induced me to confront some facts and figures to see for myself the correlation between beer consumption in Italy over the years and the weather conditions during the various seasons. What I was able to confirm was that in those years when the summer was cool, or hot but dry, beer consumption climbed. This was the case in 2007, when it was very hot in the south and along the Adriatic coasts but not all of Italy; in 2011; in the unusually cool summer of 2014; and the hot but not humid summer of 2015, when consumption peaked at 18,792,000 hectoliters of beer consumed.
When the summers were particularly hot and humid, including 2012 (75 straight days African waves), 2009 (the second hottest summer in northern Italy after 2003 in the past 200 years), there was a distinct drop in beer consumption, which sank to just over 16.8 million hectoliters in 2009. It is very important for those working in our sector to take weather into consideration, especially the craft brewers who work on low profit margins.
Weather aside, it is important to find the right beer for the summer or, in the present case, end of the summer. My advice is to try Sunnyside, an appealing and refreshing India Pale Ale (IPA) from the Eastside brewery in Latina. The brewery was founded in 2013 by Luciano Landolfi, Cristiano Lucarini, Alessio Maurizi and Fabio Muzio and up until 2015 it was nothing more than a brew-firm of great potential that little by little began to produce some high fermentation, non-filter and non-pasteurized brews.
In the first months of 2018 we should have the data on 2017 beer consumption which, some rumors say, may rise despite this summer's tremendous heat and the tax increase in on beer and could even set a record.
Related Products